Bangladesh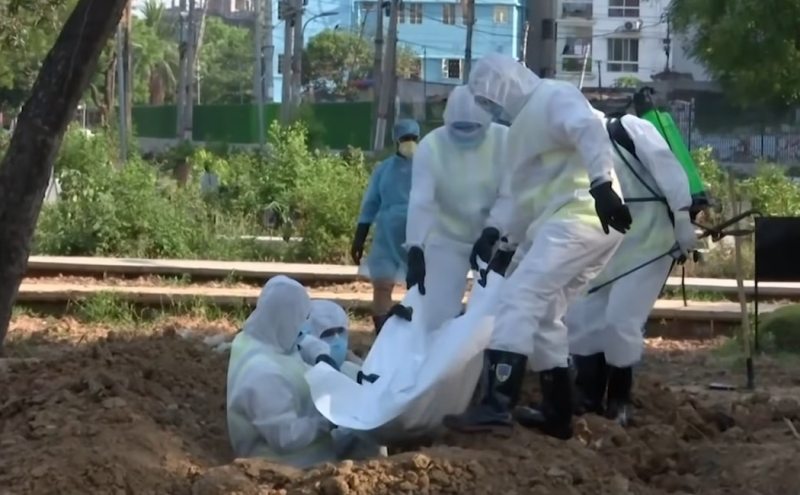 Screengrab from YouTube
Covid-19 death toll rises to 26,972 as Bangladesh records another 41 deaths within 24 hours
Dhaka, September 14: The coronavirus death toll across Bangladesh has risen to 26,972 following the death of another 41 people in between Sunday and Monday morning, according to the Directorate General of Health Services (DGHS) press release.
During this time, 1,953 people tested positive for the virus. So far, 15,32,366 people have been infected across the country.
Among the 41 deceased were 25 men and 16 women. Thirty-four of them died at government hospitals, six at private facilities and one at home.
Meanwhile, 4,112 people recovered from the disease in between Sunday and Monday, taking the recovery toll to 14,82,933.
Officials said, 26,055 Covid-19 samples were collected and 25,388 were tested in 803 government and private labs across Bangladesh in the last 24 hours. The daily infection rate was 7.69 percent. The country has tested a total of 92,72,121 samples, for an overall infection rate of 16.53 percent.
The release stated that two among the 41 deceased were between the age of 11-20, one between 31-40, seven between 41-50, 14 between 51-60, 10 between 61-70, six between 71-80 and one over 81 years.
Dhaka and Chittagong divisions each accounted for 14 deaths, Khulna six, Rajshahi three, Mymensingh two and Barisal and Sylhet one each.