Bangladesh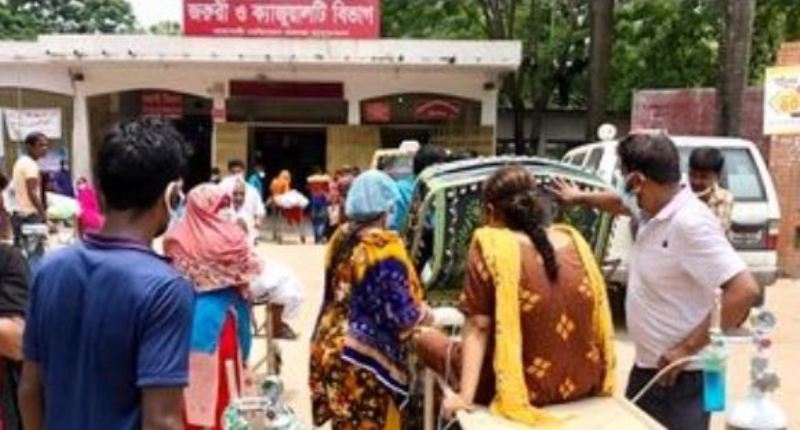 Collected
Covid-19 infection rate over 40 percent in Rajshahi division
Dhaka, January 20: The Directorate General of Health Services (DGHS) had designated Rajshahi division as a 'redzone' on January 19, following a swell in coronavirus cases there.
Less than a day after the announcement, 149 people tested positive for the coronavirus in one day in the lab of Rajshahi Medical College (RMC) Hospital. The detection rate was 40.16 percent.
Director of RMC Hospital Brigadier General Shamim Yazdani confirmed the information on Thursday (January 20). He said that in the last 24 hours, samples of 375 people were tested in two labs of RMC and coronavirus was found in the bodies of 149 people. This is the highest number of infections in the last few months. Suddenly the infection increased. On the other hand, a resident of Chapainawabganj died of the disease today.
According to the RMC report, in the RT-PCR lab of the hospital, samples of 94 people were tested and 52 people tested positive. On the other hand, in the lab of the medical college, a total of 281 samples were tested and 97 people tested positive. All are residents of Rajshahi district.
At present a total of 43 patients are being treated in the coronavirus unit of the hospital. Of these, 26 were admitted as Covid-19 positive and 12 were suspected patients. Besides, the reports of five of the admitted patients were negative. In the last 24 hours, seven new students have been admitted, while three have returned home healthy.
Asked about the sudden rise in infections, the director of RMC Hospital said the third wave of coronavirus has started. Besides, new variants of coronavirus, Omicron, have spread all over the world. The World Health Organization (WHO) says people are becoming more and more infected with Omicron, but the death toll is lower. In that case Omicron may have entered Bangladesh too. Otherwise, so many people will not be affected at once. However, without testing the genome sequence of the person infected with the corona, it is not possible to say for sure whether the identified person is infected with Omicron.