Bangladesh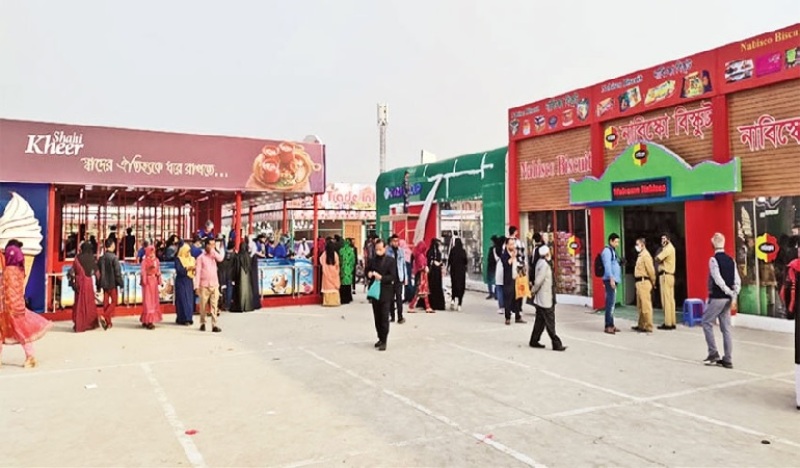 Photo: Collected
COVID-19 panel recommends closure of trade fair
Own Correspondent, Dhaka, January 26: The National Technical Advisory Committee on Covid-19 has recommended the closure of trade fair to curb the spread of Covid-19. At the same time, it has been recommended to postpone the upcoming book fair.
On Tuesday, Prof. Dr. Mohammad Sahidullah, chairman of the technical committee, said the government has been recommended by the Covid-19 National Technical Advisory Committee to be more stringent in enforcing restrictions to tackle the rising cases of coronavirus in the country.
He said, "We have repeatedly asked the government to tighten restrictions. Now it is necessary to not only announce restrictions, but also to implement and strictly enforce them."
It has been directed that public transport will run with half of their capacity, all should wear masks and the offices should be run with half of its manpower. Not only announcements, these directives should be implemented properly. Therefore, the trade fair should be shut down and the upcoming book fairs should be postponed.
When he was asked if a lockdown would be recommended, the Covid-19 panel's chairperson said there would be no benefit with a new lockdown to prevent the spread of Omicron. At the moment, the number of patients in the hospitals is comparatively low. We generally recommend lockdown when we see that patient pressure is high in the hospitals and pressure is being exerted on doctors.
Professor Sahidullah said that if the lockdown is announced again, it will affect the public life and the economy will also be damaged. So, if we can do the things that are most effective before the lockdown, then it is possible to bring corona infection under control.
Emphasizing the need for hygiene, he said the new type of corona, Omicron, was first detected in South Africa, and they tackled it by ensuring hygiene and social distancing, without imposing a lockdown. We also need to pay attention on hygiene norms.