Bangladesh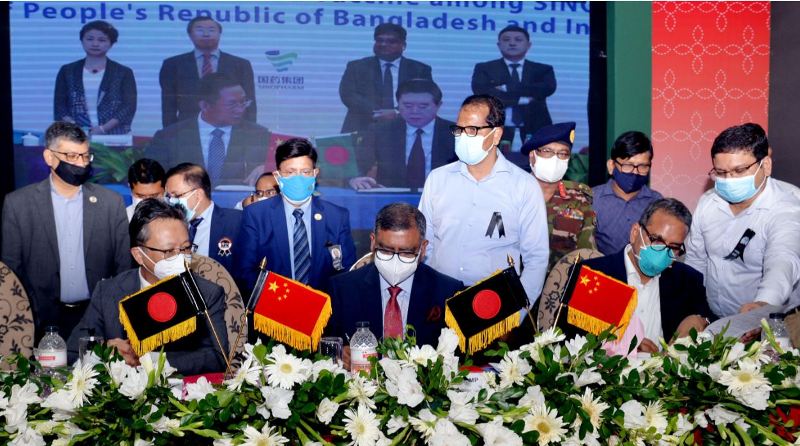 PID
Covid-19 vaccine will be produced in the country
Dhaka, August 17: Bangladesh will soon produce vaccine against the coronavirus (Covid 19). Production of the vaccine will start soon through Incepta Pharmaceuticals Company in collaboration with China, according to Health Minister Zahid Maleque.
"The Ministry of Health and Family Welfare signed a memorandum of understanding (MoU) with China's Sinopharm on Monday (August 16) to produce the vaccine in Bangladesh. Under the agreement, the vaccine will be manufactured (fill finished) by domestic Incepta Pharmaceuticals. Initiatives have been taken to produce the coronavirus vaccine not only at the private level but also at the official level," Zahid Maleque said.
He expressed hope that Bangladesh would also export vaccines abroad in the near future.
The Health Minister said, "This is a historic day. A dream is going to be fulfilled through this agreement. If the production of vaccines starts in the country, more and more vaccines can be given to the people of the country. Infections and deaths will be reduced. The country's economy will be bolstered. The pressure of treating Covid-19 patients on the healthcare sector will reduce."
He was speaking as the chief guest at the signing ceremony of an agreement between the Ministry of Health and Family Welfare and the Sinopharm at the Bangladesh College of Physicians and Surgeons (BCPS) auditorium in Mohakhali on Monday (August 16).
Foreign Minister Dr AK Abdul Momen and Senior Secretary at the Ministry of Foreign Affairs Masud bin Momen addressed the function presided over by Senior Secretary at the Ministry of Health and Family Welfare Lokman Hossain Miah. Director General of the Directorate General of Health Services Prof. Dr. Abul Bashar Mohammad Khurshid Alam and concerned officials including Chinese Ambassador Li Jimming were present at the occasion.
The Health Minister said, "Since the beginning of the coronavirus pandemic, Prime Minister Sheikh Hasina has been giving advice and guidance on Covid-19 control. She has been giving everything needed, including medicines and medical supplies. This agreement is making it possible for the Prime Minister to make Bangladesh self-sufficient in all fields and even to make it a reality."
So far, Bangladesh has received 3,10,00,000. A total of 1,54,00,000 people have received the first dose and 54,00,000 people have taken the second dose across Bangladesh.
Currently, the government has a reserve of 1,00,00,000 jabs left. Within August 22, another 50,00,000 doses of the Sinopharm vaccine will arrive.
Maleque said the country has received a total of 1,35,00,000 doses of the vaccine from Sinopharm, under the Covax facility and as gifts.