Bangladesh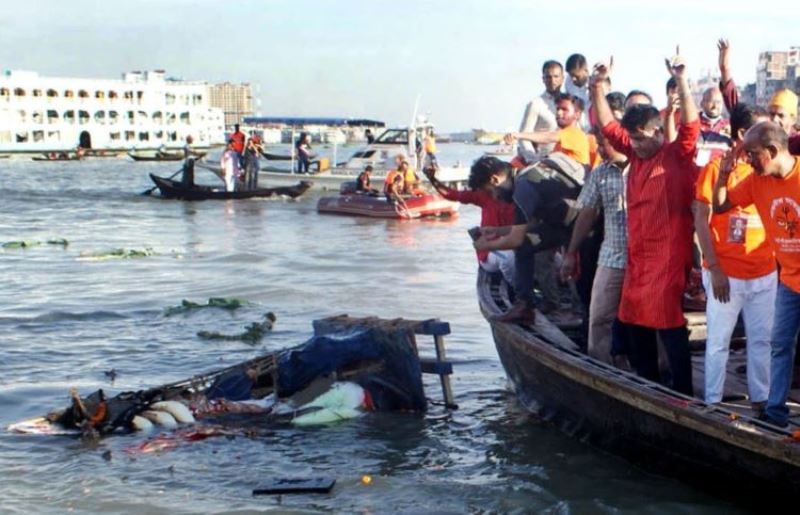 Photo: PID
Curtains down on Durga puja festival with idol immersion
Own Correspondent, Dhaka, Oct 6: Autumn Durgotsav ends with the immersion of idols. Goddess Durga went back to her husband's home in Kailash in heaven. Next autumn she will come again to this earth, which is her father's house. The immersion of Durga idols ended with flawless security. Devotees immersed the idol of Goddess Durga by dancing and singing. Through this, the Durga Puja of Hindu religion followers ended this year.
Devotees started immersing the idol of Goddess Durga from Wednesday (October 5) afternoon. It continued till evening. This immersion was going on all over the country simultaneously. Goddess Durga came riding on an elephant and went on a boat. The idols of Durga are immersed in the Buriganga river one by one in a row in the sad shadow of farewell to the music of Dhak. Idols of more than half a hundred pandals of the capital were immersed at five ghats including the Bina Smriti Snan ghat of Buriganga.
There was a police patrol on the road and at Bisarjan Ghat. There was a naval police patrol in the river. The fire service team was also in charge. Apart from this, the RAB, along with the Coast Guard, was ready to avoid the untoward situation. Members of law and order forces were also in civil dress.
With the arrival of Anandamoyi on the sixth tithi through Chandipath, Bodhan, and Adhivas, Sharidiya Durgotsava, the biggest religious festival of the Hindu community in the country, beginning from October 1. For the next five days, devotees paid their respects to Goddess Durga through puja-archana at mandapams across the country including the capital.
According to the police, apart from Wise Ghat, Bina Smriti Snan Ghat, idols have been sacrificed in three other Ghats of Old Dhaka. The ghats are - Lalkuthi Ghat, Milbarak Ghat, and Postgola Crematorium Ghat. Idol immersion was completed at the ghats under flawless security.
Before this, Bisarjan Puja started in the morning in the pandals. Later, the women took a farewell blessing with vermilion on the mother's forehead. Later idolatry started in Buriganga. Devotees joined a long procession during the immersion.
Shri Rajat Sur Raju, Joint Convener of the Central Bisarjan Ghat Committee said, Our volunteers were there to maintain order during the Bisarjan. We will work until all the work is done.
This year, Durga Puja was held in 241 pandals in Dhaka city. Of these, 154 were in the south of the metropolis, and 87 were in the north. Most of the pujas were held in Sutrapur of Old Dhaka.