Bangladesh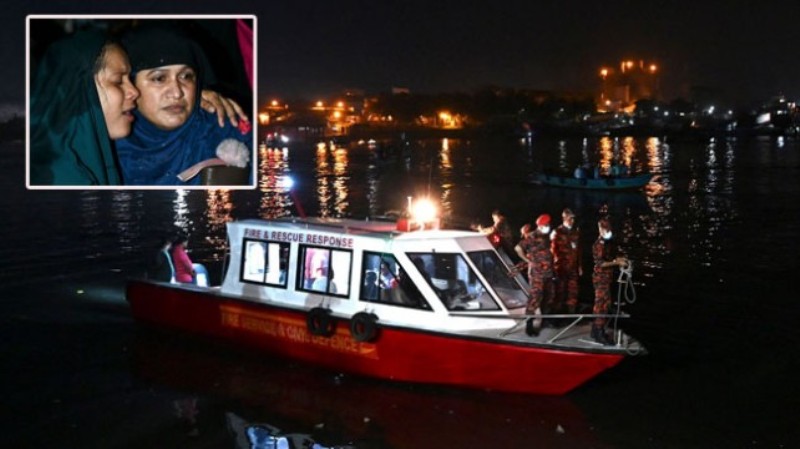 Photo: Collected
Death toll in Shitalakshya launch capsize reaches 11
Own Correspondent, Dhaka, March 23: Two days after a launch with full of passengers capcized in the Shitalakshya river in Narayanganj after being hit by a cargo ship, Bandar Upazila Executive Officer BM Kudrat-e-Khoda on Tuesday evening officially announced the end of the search and rescue operations for survivours and bodies.
He said, "We have so far recovered 11 bodies from the wreckage of the launch. Among them are four men, four women and three children. We have not yet received any reports of more dead or missing persons. We did the miking, but no one complained."
Kudrat-e-Khoda said, "We have given 25,000 rupees to the families of each of the victims on behalf of the district administration. We express our gratitude to the officials of Upazila Administration and District Administration, Police, Fire Service, BIWTA and Naval Police who have worked tirelessly in this operation. At the same time, I am praying for the forgiveness of the souls of those who died in this accident."
Narayanganj Fire Service Deputy Assistant Director Abdullah Al Arefin said a six-member committee has been formed by the district administration in connection with the incident. A committee has also been formed from the fire service today. This incident will be investigated and after investigation we will give a recommendation. We watched the video. There was a competition between the passenger launch and the cargo ship. That is why this accident happened. We need awareness. I think it is possible for us to avoid such accidents if we carry out our responsibilities consciously.
Meanwhile, the 11 bodies recovered from the launch have been identified as: Umme Khairun Fatima (40) headmistress of Haryan Primary School, Sonargaon, Joynal Bhuiyan (50) of North Islampur area of ​​Munshiganj Municipality, Arifa (35) of Ramzanbeg area and her child Safayet Hossain (1.5), Smriti Rani Barman (22) of Ispahanichar of Gazaria Upazila, Salma (33) daughter of Aziz of Mirzaganj of Patuakhali, Fatema (7) daughter of Yunus Khalifa of the same area, Abdullah Al Jaber (30) resident of Demra, Arohi (3), Moslem Uddin Hatem (55) from Munsiganj and one unknown man.