Bangladesh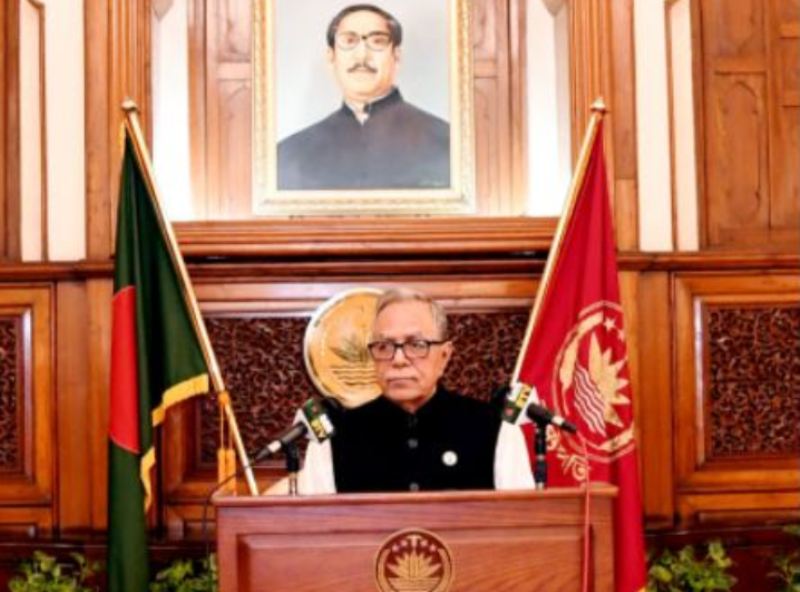 PID
Democracy must be institutionalized to reap the benefits of independence: President Hamid
Dhaka, December 16: President Md. Abdul Hamid emphasized on institutionalising democracy to bring the benefits of independence to the doorsteps of the people and said that a culture of mutual tolerance and mutual respect must be built for this. The President said this in a video speech recorded from Bangabhaban on the occasion of the 50th Great Victory Day.
Md. Abdul Hamid said, "After going through many ups and downs, a democratic government has been established in the country today. With the relentless efforts of the government, Bangladesh is advancing in every socio-economic index including health, education, women's empowerment besides achieving continuous economic growth."
He said, "Everyone's cooperation is needed to take this trend of development forward, as well as a positive change in attitude. Then the country will become the 'Golden Bengal' of Bangabandhu's dream."
Noting that the coronavirus epidemic has brought human civilization to the brink of one of the worst catastrophes in history, he said, "Under the dynamic leadership of Prime Minister Sheikh Hasina, Bangladesh is coping with the Coronavirus situation successfully."
He urged the people to follow the rules of health to win the war against the pandemic.
In this joyous moment of the Great Victory Day, the President wished all the Bangladeshis living in the country and abroad a Happy Victory Day.
He said, "On this day of victory, I remember with deep respect the greatest Bengali of all time, the heroic martyrs of the liberation war, including Father of the Nation Bangabandhu Sheikh Mujibur Rahman."
Md. Abdul Hamid said, 'Independence is the best achievement of the Bengali nation. The goal of our independence was political independence as well as economic liberation. The father of the nation started working to achieve that goal. But the brutal assassination of the anti-independence assassins on August 15, 1975 brought that pace of development to a halt."
Great Victory Day is a national holiday of the country and it is celebrated on 16 December to commemorate the victory of the Allied forces over the Pakistani occupying forces in the 1971 war of liberation of Bangladesh.
With the surrender of the Pakistani occupying forces to the Bangladesh-India joint forces, the 9-month war of liberation came to an end and Bangladesh emerged from East Pakistan.