Bangladesh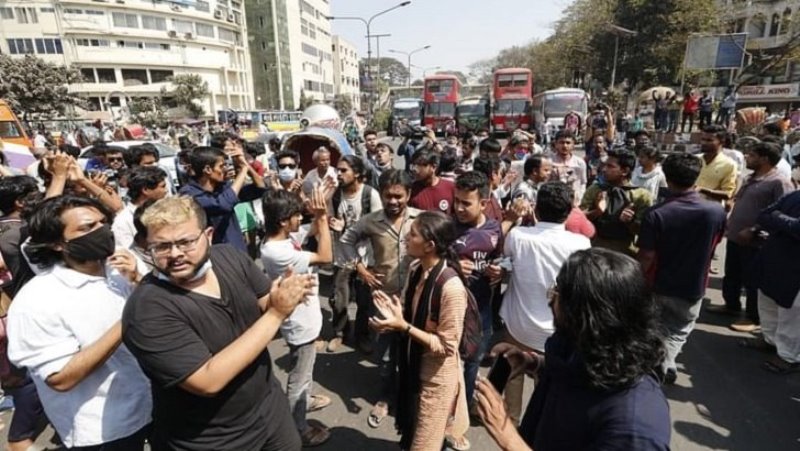 Collected
Demonstrations in the capital demanding the repeal of the Digital Security Act
Dhaka, February 27: Demonstrations have taken place in the capital to protest the death of imprisoned writer Mushtaq Ahmed and to demand the repeal of the Digital Security Act.
On Saturday (February 27) at around 12 noon, a protest procession started in front of the Raju sculpture of Dhaka University with the participation of leaders of leftist student organizations, writers, bloggers, cultural activists and students.
The procession turned to Hotel Intercontinental via Shahbag and came to Shahbagh again and met in a short assembly. At this time, the police was on alert in Shahbagh area. Besides, there is traffic jam on the road.
Al-Qadiri Joy, central president of the Socialist Student Front, said at the rally, "We have taken to the streets today to protest the death of imprisoned writer Mushtaq Ahmed. We have to continue this protest movement. '
He added, "Yesterday, the police charged batons at our peaceful torch procession. Seven people have been detained, many injured. The detainees must be released immediately. We want to say that the movement cannot be suppressed in this way. We want to repeal undemocratic digital security laws. At the same time, I demand the release of all those arrested under the Digital Security Act, including the cartoonist teenager.
The next program from the rally was to march towards the Ministry of Home Affairs on March 1 with a nationwide protest program and a siege on the Prime Minister's Office on March 3.
Meanwhile, a case has been filed alleging assault on police during a torch procession in the capital's Shahbagh demanding investigation into the death of author Mushtaq Ahmed and repeal of the Digital Security Act. Seven people have been accused in the case. Besides, another 100/150 anonymous people have been accused. Officer-in-charge (OC) of Shahbagh Police Station Mamunur Rashid confirmed the matter on Saturday.
He said a case has been lodged with the Shahbagh police station in connection with the attack on the police. The case was filed by SI Mintu Mia of Shahbagh police station.
He added that Tamjid Haider, Najib Amin Chowdhury Joy, ASM Tanzimur Rahman, Akib Ahmed, Arafat Saad, Nazifa Jannat and Jayati Chakraborty, who were arrested from the torch procession on Friday (February 26), have been shown arrested in the case. They have been sent to court. A seven-day police remand has been sought against them.