Bangladesh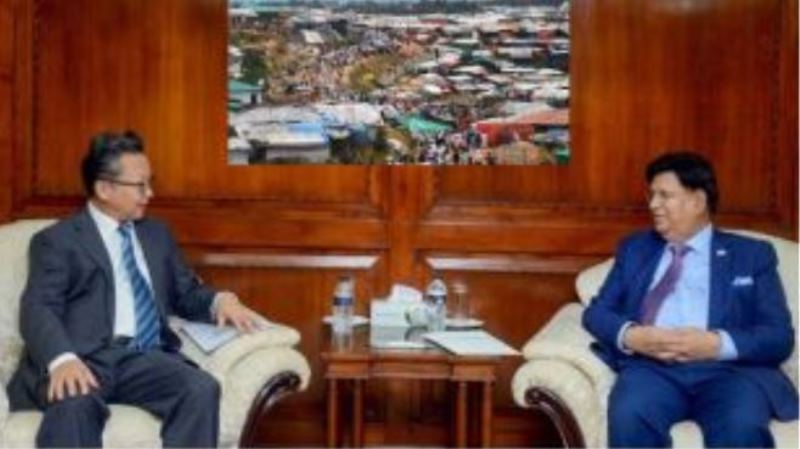 Photo: Collected
Despite repatriation agreement, not a single Rohingya returned to Myanmar: Foreign Minister
Own Correspondent, Dhaka, Oct 21: Bangladesh and Myanmar signed a repatriation agreement on November 23, 2017. But so far not a single Rohingya from Bangladesh has returned to their native Rakhine state.
Foreign Minister Dr. AK Abdul Momen said this during an hour-long discussion with Li Ziming, the Chinese ambassador appointed in Dhaka, at the State Guest House Padma on Thursday (October 20).
Regarding the meeting, the minister told reporters, "Myanmar's military government will abide by all previous agreements to take back the Rohingyas. This is good news."
The discussion was limited to the Rohingya issue. Earlier, Ambassador Jiming said that he will officially inform the results of their talks with the Myanmar side.
The Foreign Minister said that Dhaka wants a quick and sustainable solution to the Rohingya issue.
He said, "I am always hopeful (to solve the Rohingya crisis)."
Momen said that he has requested the Chinese ambassador to convey to Beijing the call to play a role in taking the Rohingyas living at "Zero Point" back to Myanmar.
Momen said the Myanmar military authorities told Beijing that they had agreed to take back the displaced Rohingya after verifying the facts. Although the repatriation of the Rohingyas who have taken refuge in Bangladesh will start, no specific date has been announced by Myanmar.
Momen said China has assured that Beijing will continue its efforts to resolve the Rohingya crisis.
"They (China) are playing a role in easing the situation, but they are not the decision maker. We are requesting them to resolve this crisis," Momen added.
He said that Dhaka will continue to put pressure on China to play a role in solving this crisis. China has been mediating between Bangladesh and Myanmar for four years to find a sustainable solution to the Rohingya crisis under a tripartite approach.