Bangladesh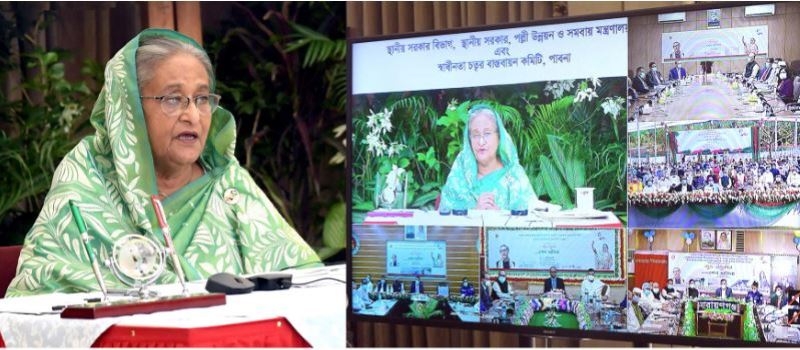 Amirul Momenin
Developing strong communication network across Bangladesh has kept economy moving forward: Sheikh Hasina
Dhaka, Nov 22, 2020: Prime Minister Sheikh Hasina has said that the wheel of the country's economy is still in motion as the Awami League government has been able to build a massive communication network across the country.
She said, "Since Bangladesh Awami League came to power, we have built a wide network of communication across the country." As a result, the wheel of our economy is moving a lot today. We have started a lot of work and we will complete it, inshallah. '
Prime Minister Sheikh Hasina said this while inaugurating three bridges in Magura, Narayanganj and Jessore and an Independence Square in Pabna on Sunday morning. He participated in the virtual event via video conference from Ganobhaban.
She said, "Since the formation of the government in 2009, we have been in the government continuously and today we are able to improve the people of the country."
The Prime Minister and Awami League President Sheikh Hasina said in the context of her party Awami League, "But we did nothing suddenly. But when the Awami League was in the opposition, we had a plan. Because, in the constitution that the Father of the Nation passed through us, he clearly spoke about the development of the people of the country and the implementation of the basic needs. Therefore, whenever I have come to the government, I have taken the initiative of planned development and the people of the country are now reaping the benefits. '
Sheikh Hasina said, "These three bridges are a gift of the year of Mujib for the people of Mohammadpur, Rupganj and Abhaynagar."
The projects inaugurated by the Prime Minister are: Sheikh Hasina Bridge at Elangkhali Ghat on Madhumati River under Mohammadpur Upazila of Magura District, Murapara Ferry Ghat on Rupganj Upazila of Narayanganj District on Shitalakshya River. Bir Pratik) Bridge and 602.55 m long bridge over Bhairab river on Amtala GC Via Maricha, Nauli Bazar road from Bhangagate (Badamtala) of Jessore-Khulna road in Abhaynagar upazila of Jessore district.
Besides, the Prime Minister also inaugurated the 'Bir Muktijoddha Rafiqul Islam Bakul Swadhinata Chattar' at Pabna, the gateway to North Bengal.
Ganobhaban was connected to the Secretariat by the Cabinet Division, Magura, Narayanganj and Jessore Deputy Commissioners' Office and Pabna's heroic freedom fighter Rafiqul Alam Bakul Swadhinata Chattar.