Bangladesh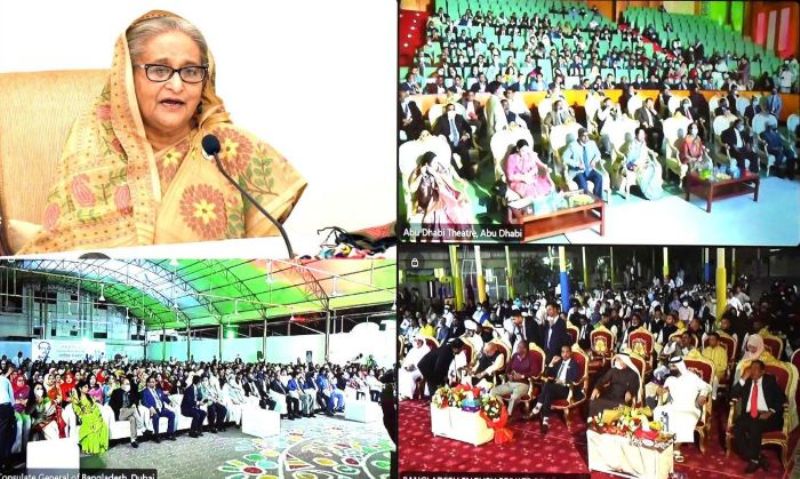 PID
Development is taking place in the country as democratic trend continues: PM Hasina tells expats
Dhaka, March 12: Prime Minister Sheikh Hasina has said, "Development of Bangladesh has been possible as the democratic trend has continued for 13 consecutive years. Bangladesh is moving forward, will move forward. No one will be able to pull the country back. There was a black chapter after 1975, that black cloud has disappered. We are moving forward with the ideal of Father of the Nation."
The Prime Minister made the remarks at a reception given to expatriates living in the UAE on Friday night (March 11). Sheikh Hasina took part in the event via video conference from her residence.
The Prime Minister said, "I am completing 13 years after winning the 2008 elections and forming the government. I have got the opportunity to run the state with the votes and cooperation of the people of the country. In my view, this is an opportunity to serve the people. Power is not an object of enjoyment for me, it is an opportunity to serve the people. To fulfill the ideal with which the father of the nation has made the country independent."
Expressing his determination to build a prosperous Bangladesh, she said, "Bangladesh will be a developed, prosperous, poverty-free country. That country will continue to raise its head in the world court with dignity. The Bengali nation will continue to raise its head. We will build the golden Bengal of the dream of the father of the nation."
Thanking the people of the country and the expatriates, the Prime Minister said, "We have also received support and cooperation from the expatriates. That is why we have been able to take the country forward today. Our goal was to bring Bangladesh to a respectable position by 2021. Today, at least I can say that today Bangladesh has got the status and recognition as a developing country."
Sheikh Hasina further said, "There will be no poor in this country. Today we have taken initiative that not a single person of the country will be homeless or landless. The government is giving them land and houses. Their lives are changing. They don't have to wander around helpless now. We are taking action. So we are taking steps to improve the quality of life of every human being."
Prime Minister Sheikh Hasina left for Abu Dhabi on a five-day state visit on the evening of March 7, at the invitation of UAE Vice President and Prime Minister and Ruler of Dubai Mohammed bin Rashid Al Maktoum. The next day, March 8, the Prime Minister of the United Arab Emirates held a bilateral meeting with the Prime Minister.