Bangladesh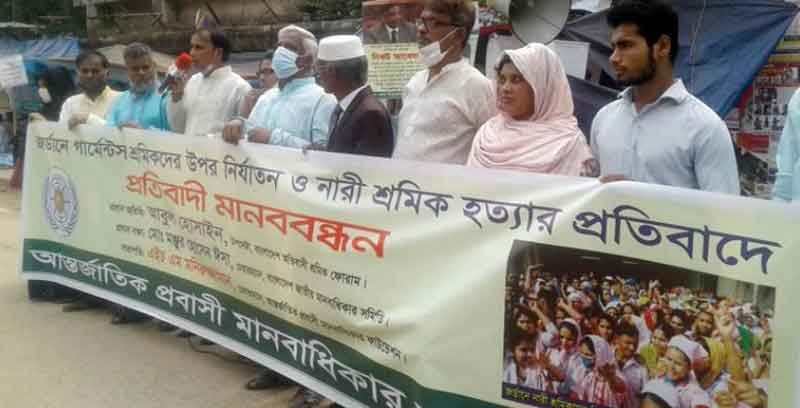 Collected
Dhaka: Protestors form human chain demanding an end to torture of migrant workers
Dhaka, November 21: Members of an organisation formed human chains to protest against the torture and killing of garment workers in various countries of the world, including Jordan, The human chain demanded an end to the torture of migrant workers and was held in front of the National Press Club on Friday (November 20) at noon.
Abul Hossain, Advisor of Bangladesh Migrant Workers Forum was the chief guest.
Abul Hossain said, "Prime Minister, you are our guardian. It is your constitutional duty to protect the health of all Bengalis inside and outside the country. But today we see our workers being tortured in Jordan but the Bangladesh government did not even utter a word. In countries where Bengali workers are being tortured and killed, including Jordan, there should be a proper investigation and the perpetrators should be held accountable and exemplary punishment should be ensured."
HM Moniruzzaman, chairman of the organization, said, "We need to ensure the safety of our expatriate friends in all countries, including the Middle East."
"Because through the relentless work of these workers, our country is gaining the status of a developing country today. But these workers are not good in exile. I am protesting against the torture and killing of migrant workers from this human chain."
Manjur Hossain Isa, Chairman of Bangladesh National Human Rights Association and many others spoke during the event.