Bangladesh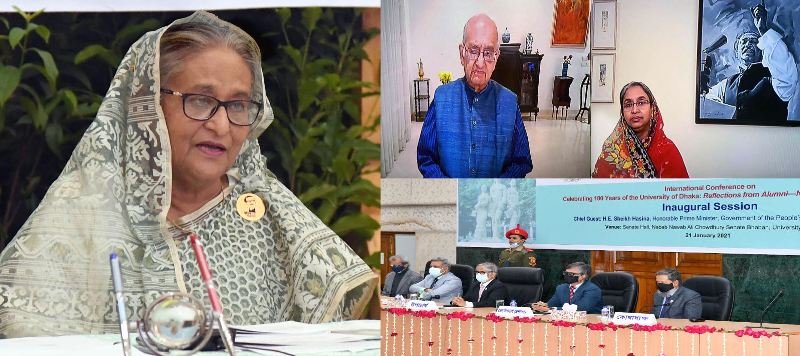 PID
Dhaka University is the birthplace of every struggle in the country: PM Hasina
Dhaka, January 22: Describing the University of Dhaka as the 'birthplace of every struggle in the country', Prime Minister Sheikh Hasina said, "It is an institution that is our achievement and pride as Bengalis. This is Dhaka University. I am really proud to be a student of that university."
She said this while addressing the inaugural conference of Dhaka University on the occasion of its centenary celebrations. On Thursday (January 21) evening, she virtually joined the conference from Ganobhaban.
Sheikh Hasina said, "When the Pakistani invaders attacked the unarmed Bengalis in 1971, they chose Rajarbagh Police Outpost, Dhaka University, Peelkhana and the house of Father of the Nation Bangabandhu Sheikh Mujibur Rahman. They killed many teachers at Dhaka University that day. Our teachers were brutally killed while we were nearing victory. Especially many in my department whom I have never seen in my life. I remember everyone with respect today."
The Prime Minister said, "2021 is a very important time for us. Bangladesh is celebrating the golden jubilee of independence this year. Our great leader Bangabandhu Sheikh Mujibur Rahman dedicated his life to this freedom struggle."
Recalling the glorious past of Dhaka University, the Prime Minister said, "In the centenary of the university, we want it to regain its old glory. Dhaka University is one of the most prestigious universities in Bangladesh. The lighthouse of all our achievements, the light of Dhaka University will spread all over Bangladesh."
Professor Imtiaz Ahmed, Convener of the International Conference Organizing Committee, gave a welcome address at the beginning of the conference. The essay was presented by economist Professor Rehman Sobhan. Education Minister Dipu Moni addressed the conference as a special guest.