Bangladesh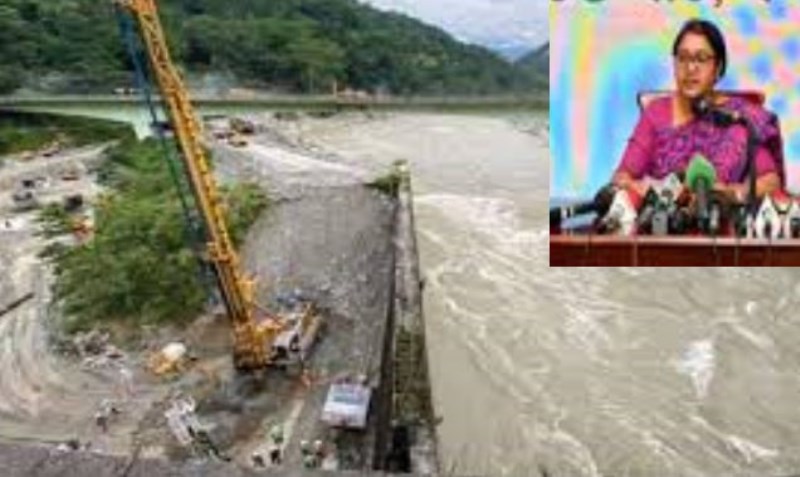 Photo: Collected
Dhaka will ask Delhi about West Bengal's proposed Teesta project
Dhaka, March 17: Bangladesh has decided to seek clarification from India on West Bengal's proposed project aimed at reducing the flow of Teesta. The process of water sharing of transboundary rivers has remained unresolved for a long time.
"We will discuss with our water resources ministry and the JRC (Joint Rivers Commission) and prepare a paper on this. Then I will ask the Indian side about the matter." Foreign Ministry spokesperson Seheli Sabrin told reporters at the weekly media briefing at the Foreign Office on Thursday.
She added that Dhaka is "carefully analyzing the situation" and the Foreign Office is currently in touch with the Ministry of Water Resources and the JRC to gather information on the proposed projects.
The foreign ministry's comments came in the context of recent reports in the Indian media that the West Bengal state government has taken a policy decision to dig two new canals to divert Teesta water for irrigation purposes in the Jalpaiguri and Cooch Behar districts.
According to Indian media, the West Bengal government plans to use Teesta water to build two hydroelectric projects that will affect the flow of water downstream to Bangladesh.
"Two of the three planned Darjeeling projects are likely to reduce the amount of Teesta water available for irrigation, especially during the December-April dry season when irrigation water demand in Bangladesh increases," the report said.
Seheli Sabrin said Dhaka will decide its steps to solve the problem after receiving a response from New Delhi.
"However, we will continue our efforts to resolve any dispute with New Delhi through discussions in the context of excellent bilateral relations," she said.
She also said that after receiving the reply from New Delhi, Dhaka will decide its course of action to solve the problem. However, she said that the issue may be discussed at the United Nations Water Conference in New York next month. She said that Dhaka has long been involved with New Delhi to sign the long-awaited Teesta water-sharing agreement.
Indian media also noted that over the past few years, Dhaka has repeatedly raised concerns with Delhi over the delay in the implementation of the Teesta Treaty.