Bangladesh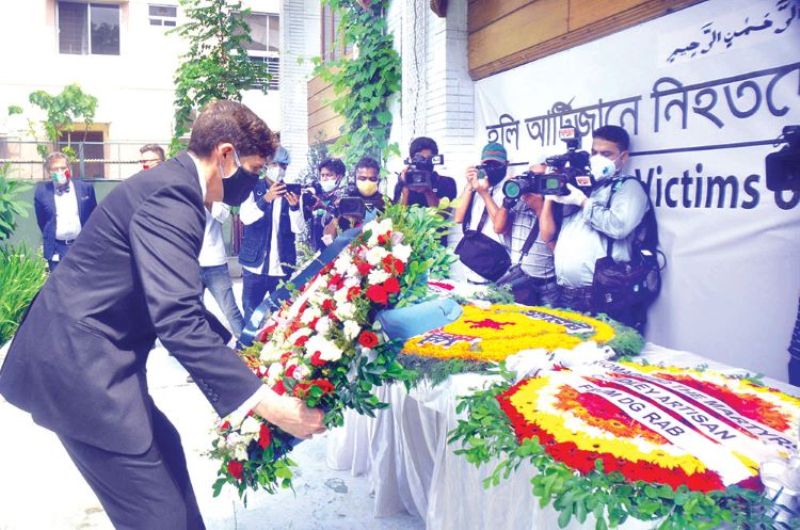 Collected
Diplomats pay tribute to the memory of those killed in the Holey Artisan attack
Dhaka, July 2: Ambassadors of different countries stationed in Dhaka paid homage to the victims of Holey Artisan terrorist attack in Gulshan with flowers. On Friday (July 1) morning, they paid tribute to the victims at the bakery with flowers.
Ato Naoki, the Japanese Ambassador to Bangladesh, first paid his respects with flowers. Italian Ambassador Enrico Nunjiata, US Ambassador Peter Haas and Indian High Commissioner Vikram Doraiswami then paid their respects with flowers.
After paying his respects, Indian High Commissioner Vikram Doraiswami told the media that it was a tragic incident. I am remembering all those who have suffered in this incident including Bangladesh and India.
As friends of Bangladesh, we are very sad. It is very important to know why such incidents are happening, how they are happening. We need to work together to prevent the recurrence of such incidents.
Ito Naoki, Japan's ambassador to Afghanistan, said the attack six years ago killed seven Japanese nationals who were engaged in research on the Metrorail Line One project. We will never forget them. Japan has important bilateral and friendly relations with Bangladesh.
On the night of July 1, 2016, militants carried out a brutal attack on the Holey Artisan Bakery in Dhaka's Gulshan. On that day, militants hacked and shot dead 20 local and foreign nationals, including nine Italians, seven Japanese, one Indian and three Bangladeshis. Two police officers were also killed during the operation that night.