Bangladesh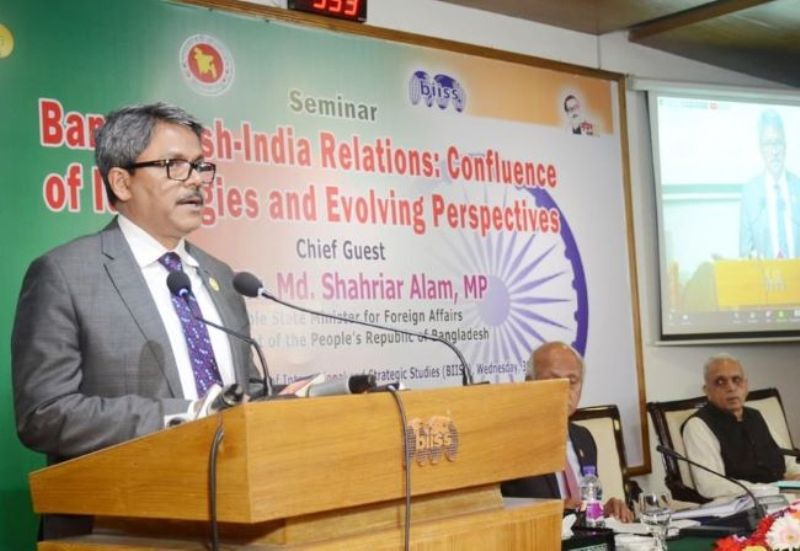 Photo: Collected
Do not want to ruin relations with India for petty political interests: Shahriar
Own Correspondent, Dhaka, March 31: Minister of State for Foreign Affairs Md. Shahriar Alam has urged not to spoil the historical ties between Bangladesh and India for petty political interests or being influenced by anyone.
The Minister of State made the call at a seminar on Bangladesh-India relations at the auditorium of Bangladesh Institute of International and Strategic Studies (BIISS) on Wednesday.
The MoS said many people talked a lot about Bangladesh-India relations. I don't think there should be any doubt about the level of relations between the two countries. We should not rule out the possibility of such a historic bond, driven by petty political interests or influenced by anyone. Everyone should be careful not to spoil the relations between the two countries in a dirty political game.
Shahriar Alam referred to the visit of the Prime Minister and President of India to Bangladesh in the same year to explain the current state of relations between Dhaka and New Delhi. He said it is rare for the Prime Minister and the President of any country in the world to visit any country in the same year. But last year the Prime Minister and President of India did that. It is a testament to the depth of our relationship. It is a proven friendship, it is proof of that.
Vivekananda International Foundation (VIF) Director Arabinda Gupta, Bangladesh Foundation for Regional Studies Chairman ASM Shamsul Arefin, and Lt. Gen. Ravi Kumar Sawani, Senior Fellow, Department of National Security, Vivekananda International Foundation, addressed the seminar which was chaired by BIISS Chairman Kazi Imtiaz Hossain.
Shahriar Alam said think tanks, academics and social scientists of the two countries should try to fight against propaganda and fabricated propaganda through constructive writings and articles, especially on social media platforms.
At that time, the Minister of State highlighted the unresolved position on border killings and water issue. He said the two countries have not yet exploited all the possibilities. Even then, many unresolved issues have been settled between the two sides. We have solved our land border problem. But border killings are uncomfortable for relations between the two countries.