Bangladesh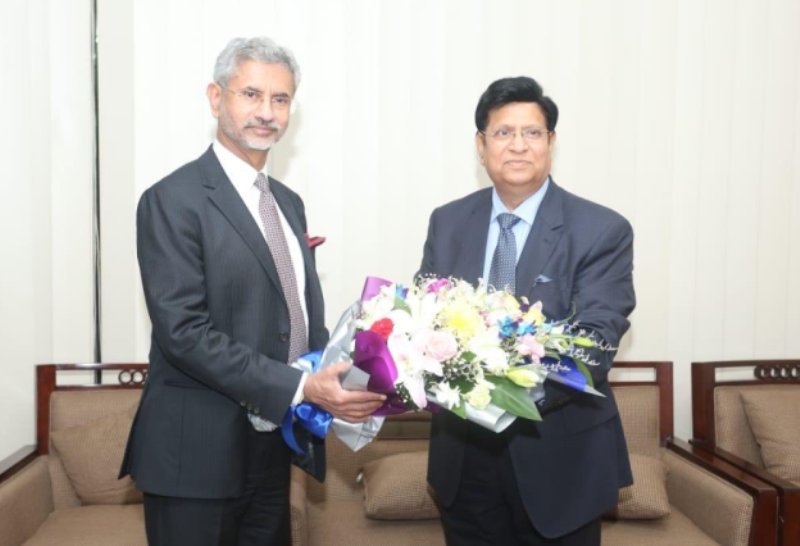 File photo
Dr. Momen hopes Indian External Affairs Minister will bring some good news
Own Correspondent, Dhaka, April 27: Foreign Minister Dr. AK Abdul Momen expressed hope that Indian External Affairs Minister Dr. S. Jaishankar would bring some good news. Jaishankar is coming to Dhaka on a one-day tour tomorrow (Thursday).
Without giving details about the 'good news', Momen told reporters at the foreign ministry here, "Perhaps he (Jaishankar) will bring good news, and will surprise us."
Dr. Momen said he is happy with the visit of his Indian counterpart as Bangladesh and India are enjoying a cordial relationship. "We always welcome him (Jaishankar) here."
The Foreign Minister further said that Jaishankar will meet Prime Minister Sheikh Hasina and hold bilateral meetings with her. He said the date of the 7th Bangladesh-India Joint Consultative Commission (JCC) meeting, which is set to be held in New Delhi, will be fixed during Jaishankar's visit.
On Monday, Indian Foreign Secretary Harsh Vardhan Shringla told media in New Delhi that Jaishankar will pay a day-long visit to Dhaka on Thursday. He will also hand over an invitation letter from Prime Minister Narendra Modi to Bangladesh Prime Minister Sheikh Hasina for her visit to India.
According to diplomatic sources in New Delhi, Jaishankar will arrive in Dhaka on a special flight on Thursday morning and will return to New Delhi in the evening of the same day.
Prime Minister Sheikh Hasina had earlier visited New Delhi from October 3 to 6 last year to attend the World Economic Forum's (WEF) Indian Economic Summit.
During the visit, Bangladesh Prime Minister held bilateral talks with her Indian counterpart Narendra Modi.
Foreign Minister Dr. AK Abdul Momen said Bangladesh has sought India's cooperation in lifting US sanctions on the Rapid Action Battalion (RAB) and seven former and current officers of the force.
Dr. Momen said the RAB's accountability has been confirmed. Everyone knows the incident of Narayanganj. That incident proves that we have ensured accountability for RAB.
Abdul Momen said that there are 45 lakh Indians living in the United States and they are very influential. They (India) have told the government. This is possible because India is our friend. They (India) have said they will raise the issue with the United States.