Bangladesh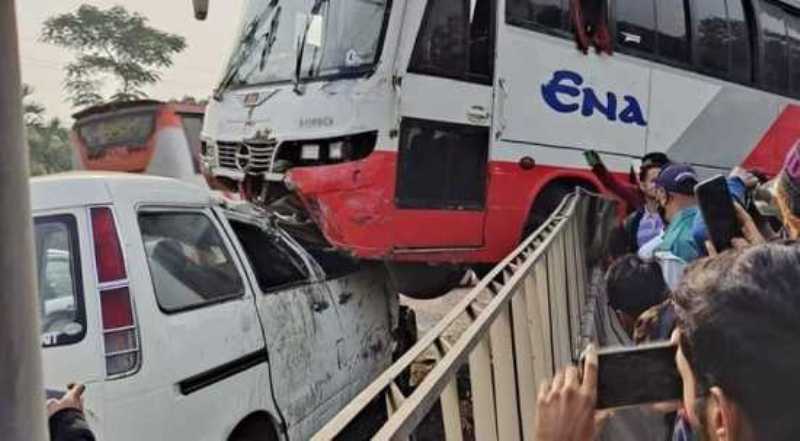 Collected
Driver nabbed as Ena Poribahan bus jumps divider, crashes into microbus in Dhaka
Dhaka, December 29: A bus of Ena Poribahan lost control in front of Hotel La Meridian in Khilkhet of the capital on Tuesday and broke the divider and climbed on the microbus in the other side lane. The accident took place around 9:30 in the morning. However, no casualties were reported in the incident. As a result of the accident, the traffic on the airport road was stopped.
Traffic Sergeant Fahim Shahriar said that a bus of Ena Poribahan was going from Dhaka to Sylhet. Suddenly losing control, the bus broke the divider and hit the microbus on the opposite side of the road.
The microbus driver was slightly injured in the incident and a lawsuit has been filed. The microbus driver filed the case on Tuesday (December 28) afternoon. The driver of Ena Poribahan has been made an unknown accused in the case. Khilkhet police inspector (investigation) Md. Aminul Islam confirmed the matter at night.
He said the Ena Poribahan bus, which left the Mohakhali bus terminal at 9:30 am, got on top of a microbus coming from the north. The microbus driver has filed a case with the police station. The accused driver was arrested by the Rapid Action Battalion (RAB).
RAB arrested him from Mohakhali bus terminal. RAB-1 Commander (CO) Lieutenant Colonel Abdullah Al Momen said the bus driver was detained for questioning.Further legal action will be taken in this regard.