Bangladesh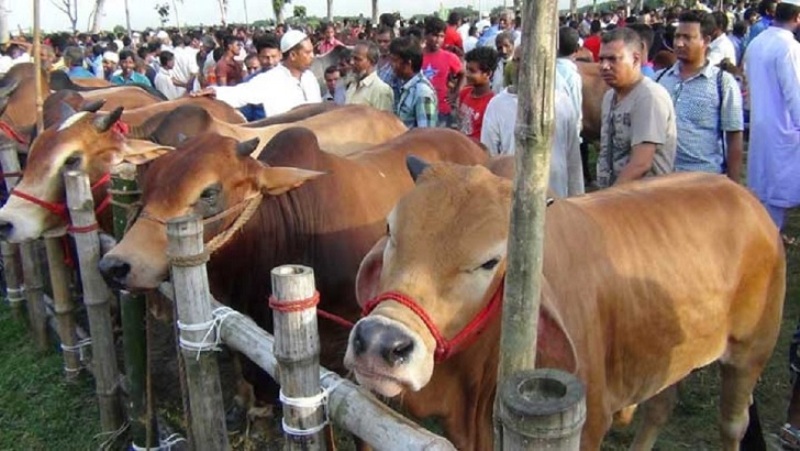 File photo
Eid-ul-Azha: People have to follow instructions while buying cattle
Own Correspondent, Dhaka, July 1: On the occasion of the upcoming Eid-ul-Azha, 16 instructions have to be followed in the cattle markets. An official statement on Thursday (June 30) outlined the guidelines for buyers and sellers of Kurbani haat.
Eid-ul-Azha, the second largest religious festival of Muslims in the country, will be celebrated on July 10. Home Minister Asaduzzaman Khan Kamal told reporters at the Secretariat on Wednesday that 4,407 cattle markets will be set up across the country on the occasion of the upcoming Eid-ul-Azha.
Notable instructions are-
1. Adequate open space should be selected for setting up the haat. Under no circumstances can a haat be set up in a closed place;
2. Before setting up the leaseholder's haat, it is necessary to collect epidemiological materials such as masks, soaps, disinfectants, etc. Adequate amount of liquid soap / general soap should be provided for clean water supply and hand washing. Ensure safe drainage system;
3. All the officers, employees and the hat committee involved in the Kurbani haat must abide by the hygiene rules. The haat committee must strengthen the personal safety of all and ensure the use of masks;
4. The workers involved with the haat have to be instructed on hygiene. Public health issues such as proper use of mask, etiquette of sneezing and coughing, physical distance, hand washing, disinfection should be given importance. Hygiene laws need to be promoted to the mic all the time;
5. No buyer or seller can enter the market without a mask. Haat authorities can provide free masks or set prices;
6. In every market, the hygiene rules have to be disseminated on the digital screen of the city corporation as per the instructions of the Directorate General of Health Services (DGHS);
7. Gates (entrances and exits) must be specified to enter the Kurbani cattle markets.