Bangladesh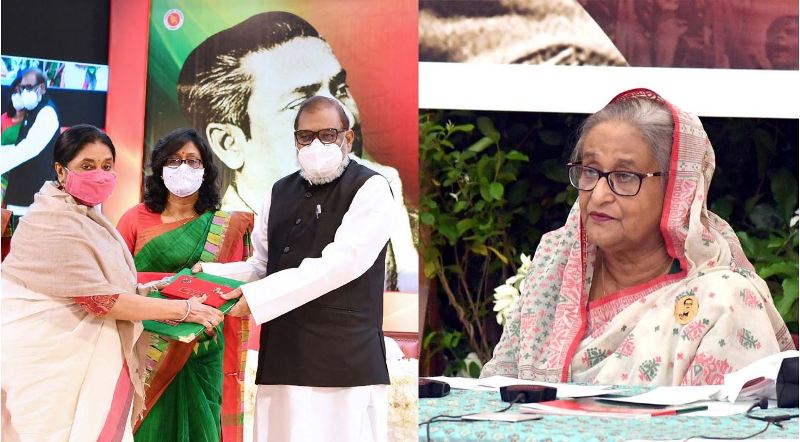 PID
Eight people, one education institutions awarded Independence Award
Dhaka, October 29: Prime Minister Sheikh Hasina has conferred the highest civilian honor of the state, Independence Day Award-2020. The Prime Minister took part in the virtual event via video conference from Ganobhaban this morning.
Earlier, the Ministry of Liberation War Affairs of the government awarded six persons and an educational institution, including two posthumously, in recognition of their special contribution in the field of independence and liberation war, medicine, culture and education.
On behalf of the Prime Minister, Minister for Liberation War Affairs AKM Mozammel Haque presented the award at a function held at Osmani Memorial Auditorium in the capital. The medal was handed over to the individual award winners and the family members of the posthumous winners and to the Homes Authority of India as an educational institution.
The prize consisted of a 50 gram gold medal of 18 carat gold, a certificate and a check for Tk 5,00,000.
The government has given the award every year since 1977 on the eve of Independence Day on March 26, but since the advent of the Awami League government, the amount of the award has increased significantly. However, the event could not be held on time this year due to coronary conditions.
Most recently, in 2019, 13 individuals and an organization were awarded the Independence Award.
The award recipients are Jute and Textiles Minister Golam Dastagir Gazi, Commander Abdur Rouf (posthumous), martyred intellectual and novelist Md Anwar Pasha (posthumous) and Azizur Rahman for Independence and Liberation War; Prof Dr Md Obaidul Kabir Chowdhury and Prof Dr AKMA Muqtadir for medical science; Kalipada Das and Ferdousi Mazumder for culture; and Bharateswari Homes, a boarding school for girls in Mirzapur of Tangail, for education.