Bangladesh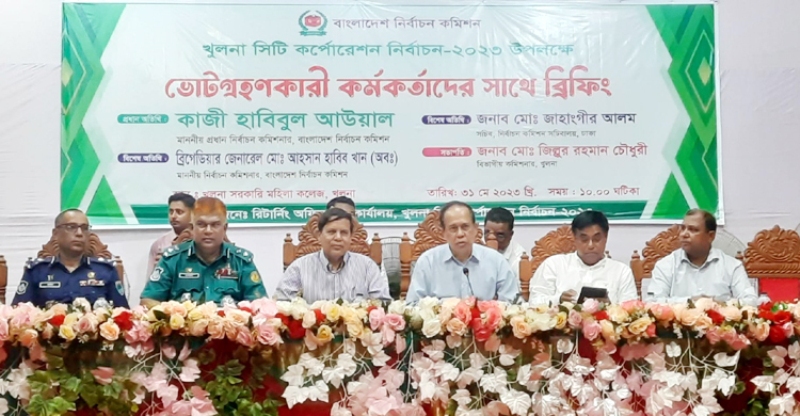 Collected
Election Commission is not responsible for anyone losing or winning: CEC
Dhaka, May 31: Chief Election Commissioner (CEC) Kazi Habibul Awal commented that it is not the responsibility of the Election Commission to make anyone win or lose an election. He said this in the chief guest's speech at the briefing with the officials who took the polls in the city corporation election at the Khulna Government Women's College Auditorium on Wednesday (May 31) at noon.
The CEC said that the responsibility of the Election Commission is to ensure the voter's right to vote. That right should not be disturbed in any way, everyone should pay attention to that. It is not the responsibility of the Election Commission to make a candidate win or lose. He said that people should not have any mistrust on EVMs. There should be trust in people. Elections will be free, fair and impartial. Their main goal is to ensure that voters can cast their votes fairly.
Addressing the presiding officers, he said, the biggest responsibility of the election is the presiding officers. Discipline within the center is essential. "You are responsible for maintaining order in the center. Don't take responsibility lightly. To exercise authority while in charge. The presiding officer can stop the polling if he wants."
Election Commissioner Brigadier General (Retired) Md. Ahsan Habib Khan and Election Commission Secretary Md. Jahangir Alam were special guests in the briefing. Khulna Divisional Commissioner Md. Zillur Rahman Chowdhury presided over the meeting.
Deputy Commissioner Khandaker Yasir Arefin, Returning Officer Md Alauddin, Khulna Metropolitan Police Commissioner Md Masudur Rahman Bhunya, DIG Khulna Range Police Md Moinul Haque and Khulna Superintendent of Police Md Mahbub Hasan and others were present.