Bangladesh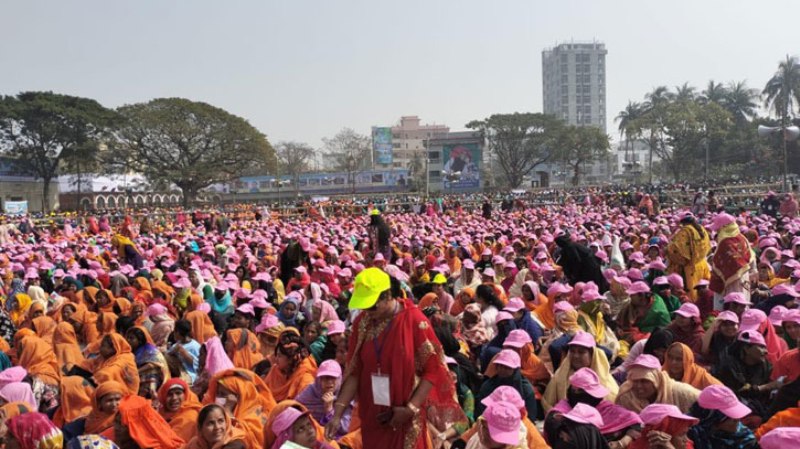 Collected
Entire city of Rajshahi turned into a grand gathering of the Prime Minister
Dhaka, January 30: The entire city of Rajshahi turned into a public meeting of Prime Minister Sheikh Hasina. She addressed a large public meeting organized by the Rajshahi Metropolitan and District Branch of Bangladesh Awami League at the historic madrasa grounds on Sunday.
Since morning, the leaders, workers and supporters of Awami League and its various affiliated organizations can be seen walking towards the venue of the meeting with banners and posters in all the roads, streets and alleys of the city and shouting slogans welcoming the Prime Minister. Along with Awami League workers and supporters from different areas of the city and eight districts under Rajshahi division, a throng of eager ordinary men and women were heading towards the venue.
The gathering was seen patiently waiting for several hours at the Madrasa Maidan to listen to the precious speech of Prime Minister and Bangladesh Awami League President Sheikh Hasina.
In Rajshahi, numerous banners, posters, placards, festoons and paintings on the walls of the streets make the metropolis colorful and beautiful. Many leaders and activists of Awami League welcomed Prime Minister Sheikh Hasina and placed large and medium sized banners and posters on both sides of the road and footpaths leading to the venue.
Apart from addressing the public meeting, the Prime Minister inaugurated 25 projects under implementation by various organizations including the Rajshahi City Corporation (RCC) at a cost of around Tk 1,316.97 crore. The Prime Minister also laid the foundation stones of six more projects at an estimated cost of Tk 376.28 crore.
Awami League presidium member and RCC Mayor AHM Khairuzzaman Liton said that measures have been taken so that the public will have the opportunity to listen to Prime Minister Sheikh Hasina's speech in an area of about three kilometers apart from the meeting venue and the adjacent Eidgah ground.
He said that 1.5 lakh bottles of water were distributed among the public through motor vehicles at 13 points in the city and adequate number of volunteers were deployed for security. Mayor Lytton said that law enforcement forces have taken strict security measures to make the rally a complete success.