Bangladesh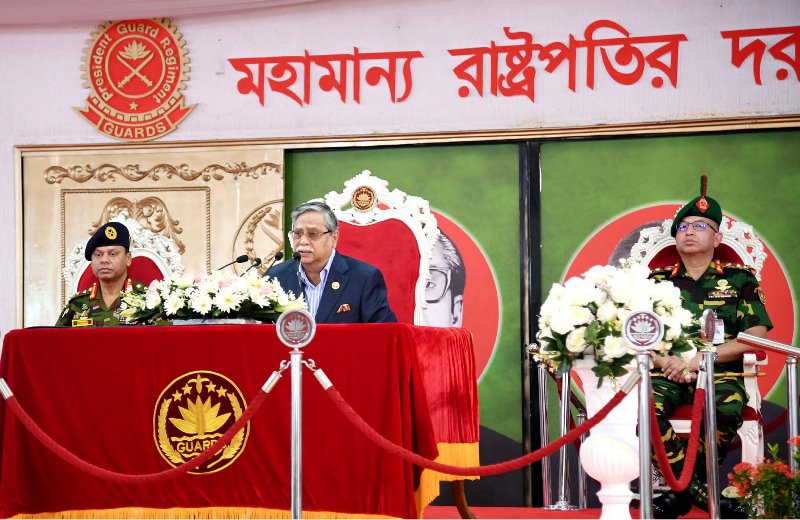 Photo: PID
Establishment of PGR is an expression of Bangabandhu's visionary thinking: President
Dhaka, July 5: President Md. Shahabuddin said, the regiment has been recognized as a disciplined, complete and independent organization due to the increase in the scope of responsibility, changes in the organizational structure and the tireless efforts of the members of the Presidential Guard. The establishment of PGR is an expression of Bangabandhu's visionary thinking.
The President said this on Tuesday, July 4, at the 48th founding anniversary of the Presidential Guard Regiment.
He said, "As the head of state of the country, the president has a close relationship with this traditional regiment. Please accept my warm regards and congratulations. My sincere congratulations and gratitude to those whose tireless efforts and sacrifices have brought the Presidential Guard Regiment to the present stage since its inception."
The President said, "The father of the nation took plans for the development of all sectors of the war-torn country, played an important role and attached importance to social development. He turned the war-torn country into a less developed country in just three and a half years. To keep the independence and sovereignty intact, Bangabandhu took practical steps for the development of various forces to ensure the security of the country. Besides, President Guard Regiment was established on July 5, 1975 as a specialized regiment for the security of important state persons."
Due to the global corona pandemic, there has been a significant change in the way of life and living system in our country as well. In such a situation, you have played a commendable role in the celebration of the golden jubilee of independence and victory and Mujib centenary celebrations through dedication, skill and hard work, besides fulfilling the duties assigned to you. Many Heads of State and Government of our friendly countries attended the two solemn events to celebrate the Golden Victory Mujib Centenary of our freedom and victory. You have raised the country's image in the world to a unique seat of brilliance. Along with other organizations, you also have appreciable contribution in organizing these events. Your efforts to ensure the safety of foreign guests during the Corona epidemic have been appreciated abroad.