Bangladesh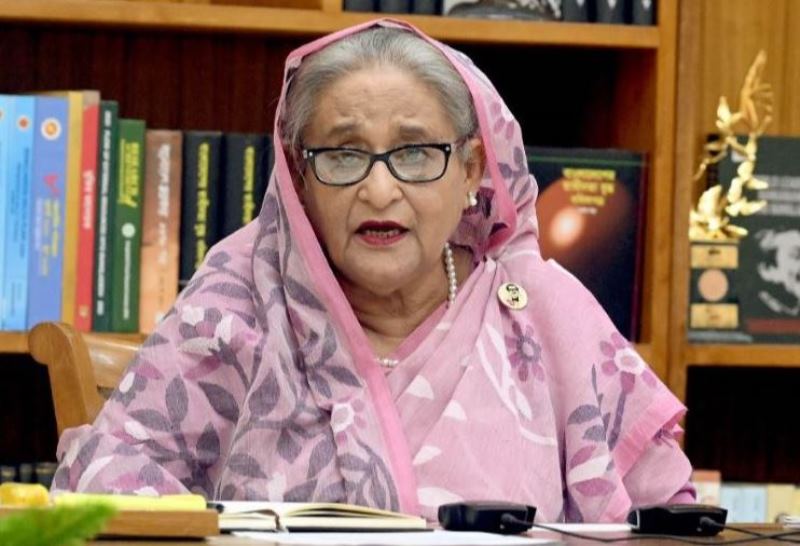 Photo: PID
If US police shoot and kill a person, there is no trial: Prime Minister
Own Correspondent, Dhaka, Oct 7: Prime Minister Sheikh Hasina said that the United States imposed sanctions against RAB. My question is, who created RAB? The creation of RAB is America's suggestion. America gives them training and weapons. Even their digital system, and ICT system are all provided by America. When America imposed sanctions, they did the same thing as you trained. What can we do about it?
The Prime Minister said these in response to a journalist's question at a press conference held at the Prime Minister's official residence Ganobhaban on Thursday (October 6) afternoon regarding her visit to the United Kingdom and the United States.
In the press conference, the Prime Minister detailed her various programmes during her visit to the United Kingdom and the United States.
The Prime Minister said, "In our country, law and order forces be it RAB, police or army, if anyone commits any crime he will be prosecuted. But I have seen in the United States, even if the police shoot and kill at will, there is no trial for them. A small child was also shot dead for putting his hand in his pocket. When all the people of America got into the movement, then that one judgment seems to have been able to do in a lifetime. But they don't say how many of our Bengalis died there. I told them that."
She said, "Friendship with all, enmity with none -- we believe in this principle. The United States imposes restrictions on us from time to time. It is most unfortunate that some people in our country are spreading false information in various places including their senators. They defame the country. Those who do such a search will find that they themselves have left the country or been fired from their jobs."
The head of government said, "I don't know when they will lift the ban. However, what is the meaning of sanctioning the damage they have done with bans, with whom we have suppressed terrorism in this country? Supporting terrorists. I also have a question for the United States, are they unhappy with the fight against terrorism?"
"After fighting against the Taliban for 40 years, the American soldiers left the power of Afghanistan in the hands of the Taliban. They do not talk about their failures. Now again Ukraine-Russia is banning the war. Common people are being harmed by the ban. If one country puts sanctions and bans on another country, how is it! I have made it clear in my speech - this war must stop."