Bangladesh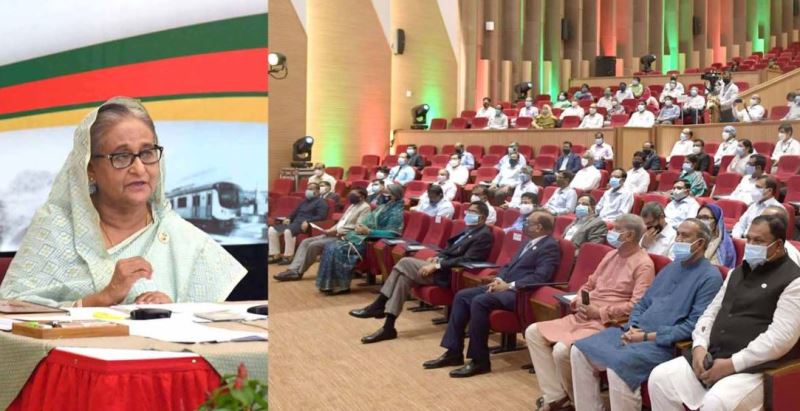 PID
Everyone will be vaccinated in phases: PM Hasina
Dhaka, July 18: Prime Minister Sheikh Hasina has reiterated the importance of adhering to hygiene rules in the prevention of coronavirus and directed the concerned administration to ensure the use of masks by the passengers on their way home during the holy Eid-ul-Azha.
"The government has taken steps to bring everyone under the vaccine in phases. God willing, no one will be left out," the Prime Minister said.
"In coronavirus situation, everyone should pay attention to follow the health rules. I know our people like to travel to the countryside, and don't want to wear masks. But those in charge of the administration will try a little harder to convince people and at least wear the mask and be careful," she said.
The Prime Minister said this while addressing the signing ceremony of the Annual Performance Agreement (APA) of the Ministries / Departments for the financial year 2021-22 and the APA and Integrity Award Ceremony-2021 as the chief guest on Sunday morning. She virtually participated in the main event organized by the Cabinet Division at Osmani Memorial Auditorium through video conference from Ganobhaban.
"No one should be left out of the vaccine and we have taken steps in that way," she said. "We have started administering vaccines. We will buy as many vaccines as we need so that everyone in our country can get the vaccinated and we will give that vaccine to everyone in the country."
"We want the people of our country not to be harmed in any way," Prime Minister Hasina said. "In this pandemic situation, everyone should follow the health rules. You have to protect yourself."
"One of our goals has always been to serve the people. Therefore, to build the efficiency of those who will serve, to ensure their transparency and accountability, that is, to build a service administration for the people," she said.
"We came to the government to serve the people," the Prime Minister said. "The Prime Ministership is just an opportunity for me to work for the people, to change their destiny and to implement the ideals with which Bangladesh has become independent."