Bangladesh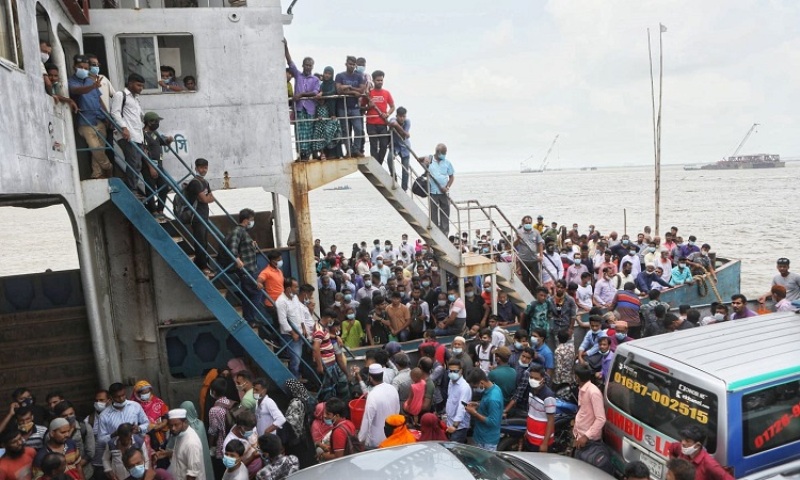 Collected
Exodus from Dhaka ahead of lockdown helped the coronavirus to spread across Bangladesh, researchers say
Dhaka, September 15: Since the announcement of the general holiday on March 23 last year, there has been an exodus from Dhaka to the countryside, which, according to a joint study of seven domestic and foreign organizations, has caused the spread of coronavirus.
The research paper was published in the famous British journal 'Nature' on September 4. This was stated in a press release sent by AKM Tariful Islam Khan, Senior Manager (Communications), International Centre for Diarrhoeal Disease Research, Bangladesh (ICDDR,B) on Tuesday (September 14th).
The study was launched in March 2020 by a joint venture of scientists from IEDCR, ICDDR, B, IDESHI, Bangladesh government's A2I program, UK-based Sanger Genomic Institute, Harvard School of Public Health and University of Bath.
The study discusses in detail the emergence of the first coronavirus in Bangladesh, the role of public movement in the pre- and post-lockdown coronavirus spread across the country.
Initially, the genomes of 391 coronaviruses collected from different parts of the country were analyzed during the March-July 2020 period, the release said. The analysis shows that the first possible coronavirus outbreak in the country took place in mid-February 2020 and later with more viruses infiltrating through domestic and international aviation.
The first coronavirus case was detected in Bangladesh on March 8, 2020. To prevent its spread, the government of Bangladesh (in the first phase) declared a general holiday from March 26 to April 4.
According to data collected from Facebook and mobile phone operators from the government's A2I program, the SARS-COV-2 genetic analysis of data on public departure from Dhaka between March 23 and March 26 showed that outbound travel from Dhaka was the primary cause of the spread.