Bangladesh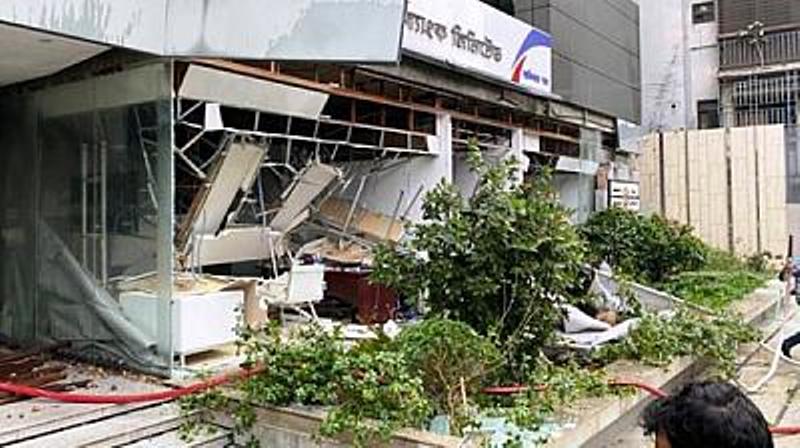 Collected
Explosion at UAE Visa Center; One killed
Dhaka, January 14: One person was killed and at least six others were injured in a massive explosion at Empori Financial Center on 93 Road, Gulshan-2. The bomber struck shortly after 1:40 a.m. Wednesday. The ground floor of the 14-storey building houses the UAE Visa Processing Center. Besides, NCC Bank has offices of various commercial organizations including Baridhara branch.
Locals said that the sound of several explosions in the building at noon suddenly created panic. The police temporarily stopped the movement through there.
Upon receiving the news, the fire service personnel came and started the rescue operation. Then a curious crowd gathered in front of the building. From the outside, the front part of the ground floor of the building was damaged in the blast. The glass is broken and the structure of aluminum panels, false roofs, plywood is broken.
Azizul Haque, who was killed in the accident, was a senior technician of Aziz Trade and Engineering. He came to the building to repair the AC. Firefighters recovered his body from a 14-story roof.
Gulshan Police Station OC Abul Hasan said six injured people were being treated at United Hospital. They are all safe. They are Nazmul Hasan (31), Masud Parvez (31), Kainat (21), Umme Salma (35), Ferdous (21) and Sajal (22). They are all employees of the Emirates Visa Center.
Gulshan Police Station Inspector (Investigation) Aminul Islam said the blasts took place mainly at the Visa Center on the ground floor and on the roof. The explosions occurred when the technician was repairing the roof outside the AC unit. He was killed in the blast.
The police official said five of the parts outside the AC on the 14-storey roof had exploded. On the ground floor, signs of explosion were seen in eight ACs of the Emirates Visa Center. Initially, it is understood that the explosion took place from the AC. Visa center staff said the explosions on the roof and below occurred at about the same time.
In response to a question, Inspector Aminul said that the ACs on the ground floor belonged to the York Company. However, it is not yet clear why the explosion took place.