Bangladesh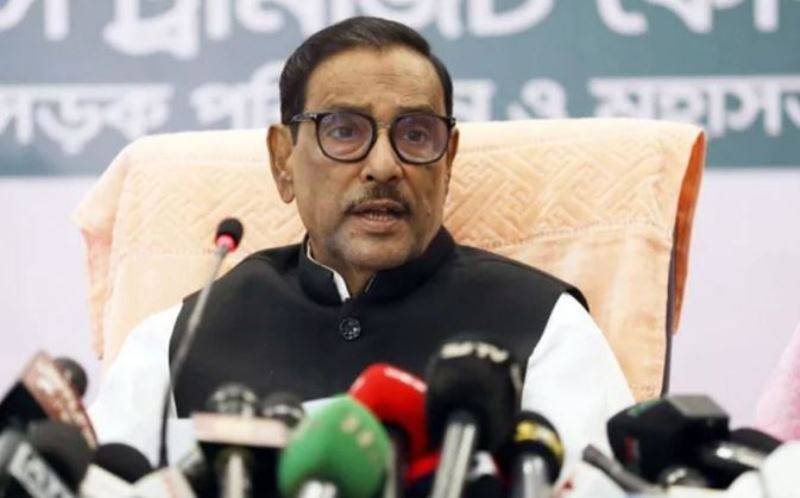 File photo
Facing a tough challenge in politics: Quader
Dhaka, Oct 2: The ruling Awami League has announced a new programme ahead of the 12th National Assembly elections. Among these programmes are the grand gathering at Aminbazar in Savar on October 3, inauguration of third terminal of the airport on October 7, inauguration of Padma Setu railway bridge on October 10, inauguration of Motijheel section of Metrorail and Sudhi rally on the occasion of inauguration of Bangabandhu Tunnel on October 28.
Awami League General Secretary, Road Transport and Bridges Minister Obaidul Quader announced these programmes after a joint meeting of the presidium with the leaders of Dhaka and various regions at the party office at 23 Bangabandhu Avenue in the capital on Sunday.
He commented that BNP is not an opponent, but an enemy. Obaidul Quader called on the leaders and activists to be extremely careful in confronting BNP in the field of politics and said that I am facing a tough challenge in politics. The joint meeting is organized to meet this challenge.
He said, "We are sensitive about Khaleda Zia. She (Sheikh Hasina) has shown utmost kindness towards Khaleda Zia. She set the example. Khaleda Zia's medical treatment is clear from what the Prime Minister said in the interview. The government has nothing to do with the current law regarding the treatment of the BNP chief. According to the law, she should be treated according to the instructions of the court. If Awami League is an illegal party, why is Khaleda Zia released or sent abroad for permission?"
Obaidul Quader said, "As a political party, BNP should follow the limits of words. ASM Abdur Rab was also a convicted accused. In the context of Khaleda Zia, AS Abdur Rab cannot be an example. Haji Salim also did not get a chance to go beyond the law. Awami League did not come to power by floating in the air or raising the barrel of a gun."
Awami League general secretary also suggested that politicians should stay away from talking nonsense.
Stating that the Prime Minister will return to the country on October 4 at noon, he said, "She is bringing many international awards and honors for us." However, he turned down the Awami League's offer to welcome the Prime Minister when she returns home.