Bangladesh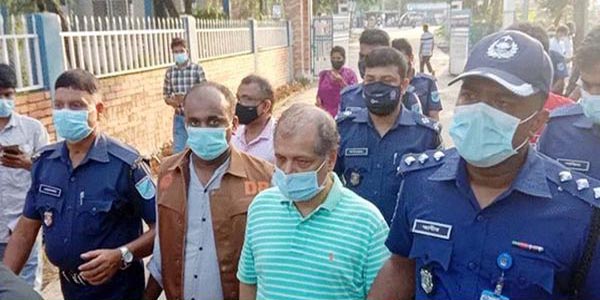 File Picture
Factory fire: 6 accused including chairman of Sajib group remanded for 4 days
Dhaka, July 11, 2021: A court has granted four-day remand to each of the eight accused arrested in connection with a horrific fire at the Hashem Foods factory in Rupganj, Narayanganj, which killed 52 people.
The court passed the order after a hearing on Saturday (July 10th) afternoon by Senior Judicial Magistrate Fahmida Khanam. Earlier, the police applied for a 10-day remand.
The accused are Abul Hashem, Chairman and Managing Director (MD) of Sajib Group and Shahenshah Azad, Chief Executive Officer (CEO); Hashem Foods Deputy General Manager (DGM) Mamunur Rashid.
Earlier, Nazim Uddin, an inspector at Bhulta outpost in Rupganj, filed a murder case against eight people.
The fire broke out at the factory on the afternoon of July 8.
Three people died on the first day of the incident.
More than 50 workers were injured.
16 units of fire service in Dhaka and Narayanganj brought the fire under control after trying for 20 hours.
The bodies of 49 people, including 26 women, were recovered from the fourth floor of the building on July 9 morning. In all, the death toll rose to 52. After 29 hours, on the night of July 9, the fire came under complete control.
Meanwhile, it may take a month to identify the victims of the fire, said Mohammad Masud Rabbi Sabuj, DNA examiner of the forensic department of Dhaka Medical College (DMC) Hospital.
"So far, we have collected samples from 35 claimants against 28 bodies," he said.
"Not all claimants have come yet. When they arrive, their samples will be taken in stages. At the same time those whose samples have been taken will be tested in the lab. All in all, it is hoped that we will be able to identify the identities within a month," he said.
On the other hand, Home Minister Asaduzzaman Khan Kamal has termed the incident of 52 people killed in the fire as 'murder'.
"There has been an accident, there has been a murder, a lot of people have died, there will be a lawsuit. The case will be investigated, those who are guilty, those who are at least guilty or (those) who will be held responsible will be tried," he said.