Bangladesh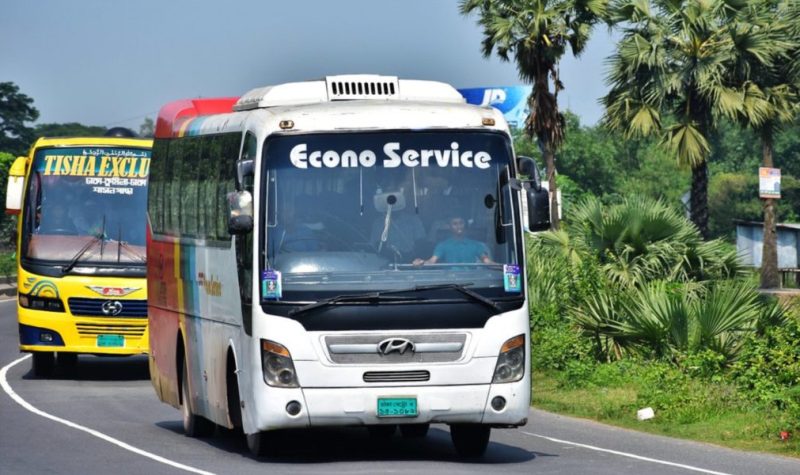 Collected
Fares increased for long distance buses, Tk 150 for no-AC, Tk 300 for AC vehicles
Dhaka, August 6: Along with the increase in the price of fuel oil in the country's market, the fare of long-distance public transport has also increased. Passengers have been complaining of charging extra fare in almost all public transport since Saturday (August 6) morning.
After visiting Gabtali, Jatrabari, Sayedabad and Mohakhali bus counters in the capital, the complaints of the passengers were found to be true. At the bus counters, it is seen that each bus is charging more than Tk 150 to Tk 300 per seat without the permission of Bangladesh Road Transport Authority (BRTA). Long-distance passengers are in trouble.
On Saturday, various bus terminals of the capital were visited, due to the increase in oil prices, some long-distance buses including Mamun Paribahan, Al-Mobarka Paribahan, Shyamoli NR Travels are not running. They said that the authorities have taken this decision by increasing the price of oil. A decision on bus operation will be taken after a meeting of transport owners with BRTA on Saturday afternoon.
Kalyanpur SB Super Deluxe manager Md. Toeb said, "Our bus fare has been increased by 30 percent due to the increase in fuel prices. By doing this, the non-AC bus fare from Dhaka to Kushtia has been increased from Tk 550 to Tk 700. The fare of AC bus from Tk 800 has been increased to Tk 1,040."
Md. Ramzan Ali, manager of Gabtali counter of Royal Express, long-distance transport from Dhaka to Jhenaidah, Chuadanga, Jessore, Darshana and Meherpur, said that the fare has increased by Tk 150 per seat in non-AC bus and Tk 200 in AC bus from Dhaka.
Md Roni, counter representative of Shyamoli Paribahan in Sayedabad, said that the fare on the Dhaka-Chittagong and Sylhet route was Tk 570. Now it has been increased to Tk 650. The fare on the Dhaka-Cox's Bazar route is being increased from Tk 900 to Tk 1,200. Dhaka-Barisal route fare has been increased from Tk 450 to Tk 550. In this way the bus fare of every route of the country is being increased.
Faisal, the counter representative of Hanif Paribahan, said that the fare has been increased from Tk 100 to Tk 150 for each bus. However, the owner is keeping the previous fare in Greenline transport buses. Shamima Akhter, call taker of the call center of Greenline Bus, said, we have not received any announcement till now. So the previous rent is being charged.