Bangladesh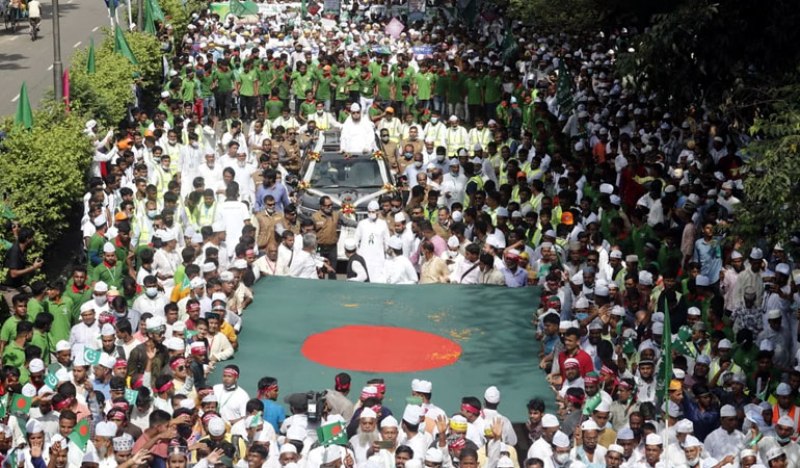 Collected
Festivals of three religions celebrated simultaneously in Bangladesh
Dhaka, October 21: Thousands of Muslims have vowed to maintain inter-religious unity at a rally in Bangladesh on Wednesday on the occasion of Eid-e-Miladunnabi. At the same time, Eid-e-Miladunnabi of Muslims, Kojagari Lakshmi Puja of Hindus and Prabarana Purnima of Buddhists have been celebrated in the country. Religious festivals were celebrated a few days after the communal unrest.
"We will not accept religious extremism, militancy and sectarianism," participants said at a religious rally in Maizbhandari Darbar Sharif.
The gathering was attended by scholars and Sufis as well as ministers, politicians, foreign diplomats and dignitaries. Syed Saifuddin Ahmed, a descendant of the current leader of the Durbar Sharif, Hazrat Muhammad (peace be upon him), administered the oath of office at the rally. He said that this year Miladunnabi has brought an extraordinary opportunity to maintain inter-religious unity in line with the teachings of the Quran and the teachings of the Prophet (peace be upon him).
Among the political leaders, the information minister and the joint secretary general of the Awami League. Hasan Mahmud, Liberation War Affairs Minister AKM Mozammel Haque, Kalyan Party President Retired Major General Syed Mohammad Ibrahim addressed the meeting. Representatives from Indonesia and South Korea also attended the rally. State Minister for Religion Mohammad Faridul Haque Khan gave a virtual address from Pirganj.
The gathering from the premises of the Institute of Engineers brought out a colorful procession on the highway. Participants carried placards with the Prophet's message of universal peace and unity.
Muslims across the country traditionally celebrate Eid-e-Miladunnabi by discussing the biography of the Prophet Muhammad (peace be upon him) and his spiritual teachings.
Hindus celebrate the annual Kojagari Lakshmi Puja. The puja is performed in their own homes. Buddhists celebrate the annual Pravarana Purnima by discussing the Buddha's message of non-violent teaching.
Kajal Debnath, a leader of the Hindu community, said, "It is a coincidence that religious festivals of three religions are celebrated in the same place on the same day. But I see this as an indication of interfaith unity. Because we are all created by the same Creator. That Creator is universal."
"We want to be inspired by this coincidence in the spirit of peaceful co-existence," the leader added.
Prabarana Purnima of the Buddhist community was also celebrated on this day. Through this festival, the Buddhist monks ended their three-month solitude.