Bangladesh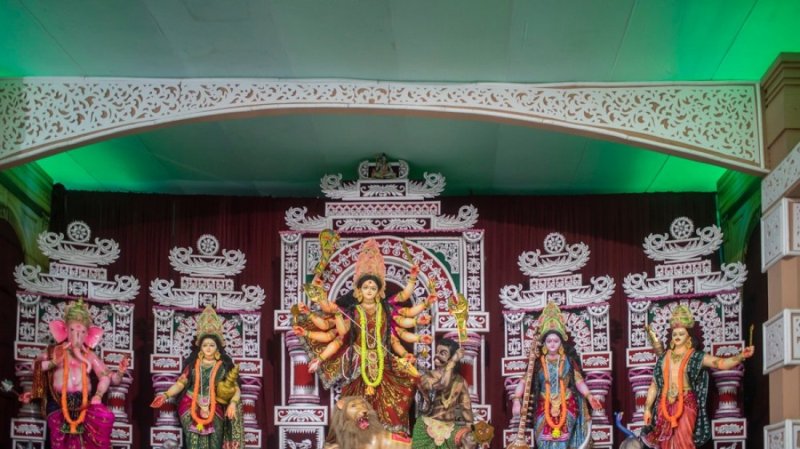 Collected
Festive atmosphere in Comilla's Nanua Dighi as country gears up for Durga Puja
Dhaka, October 1: Even though the wounds haven't healed, following communal clashes in last year's durga puja, Comilla's Nanua Dighi is gearing up for the festival again this year.
Leaders of Comilla's Durga Puja Celebration Parishad say that they are seeing increased activity of law enforcement and administration around the puja. In this, he has almost completed the preparations for the puja celebration. Now the last stage preparations are going on to paint themselves in the colors of the festival.
Durga Puja 2020 was held on a limited scale due to the pandemic. As the situation became somewhat normal last year, preparations for celebrating this biggest festival of the Hindu community were extensive. But after the discovery of the Quran Sharif in a puja mandap on the banks of Nanua Dighi in Comilla, the joy of the puja dimmed.
Achintya Das Titu, general secretary of Comilla Mahanagar Pooja Celebration Parishad, has now been given the responsibility of managing committee of the temporary pujamandap at Dighir Par in Nanua. Stating that he wants to think of last year's incident as an 'isolated incident', Titu said that our festival turned into sadness in that incident last year. I am getting the assurance of law enforcement and administration that we can celebrate the festival safely.
This time Sharidiya Durgotsab will be celebrated in 794 marquees in Comilla City Corporation area and 17 upazilas of the district. The district administration, district police and various law enforcement units have made extensive preparations in advance to provide round-the-clock security to each mandap. In the meantime, preparatory meetings have been held with people of all religions.
Comilla historian and researcher Ahsanul Kabir said that the bond of communal harmony between Muslims and Hindus of other religions in Comilla district is about two and a half years old. During this long period, there is no precedent of communal hatred between Hindus and Muslims.
In 1661, Gobindpur Kazi House was the first Muslim family to settle permanently in Comilla district. Gobindpur Kazi House is located in Comilla city. The historian said that Muslims gradually settled in Comilla district after that.
Mufti Masudur Rahman Majumdar, the Khatib of a mosque in Comilla said, "People of every religion have the freedom to celebrate their own religious festivals. Islam never supports communal hatred. It is the responsibility of Muslims to ensure the religious rights of people of other religions. As necessary, Muslims should ensure the safety of celebrating festivals of other religions, including Hindus."