Bangladesh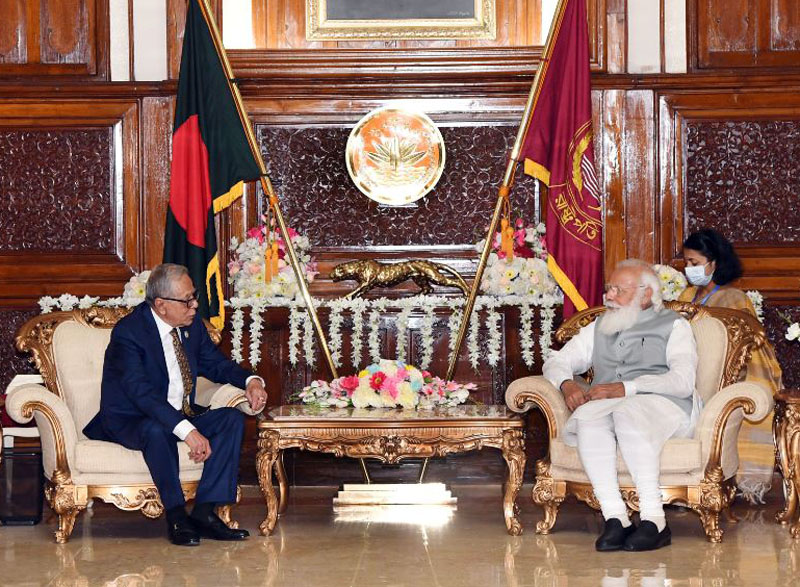 PID
Fighting COVID-19: President Hamid thanks Narendra Modi for gifting 3.2 million vaccines
Dhaka, March 26, 2021: President of Bangladesh Abdul Hamid thanked the Prime Minister of India Narendra Modi for gifting 32 lakh vaccines.
He also hoped that the vaccines that were supposed to come on a commercial basis would come in time. The President said Abdul Hamid met MOdi on Saturday.
Narendra Modi arrived at Bangabhaban around 7 pm.
At this time, Abdul Hamid greeted him with flowers at Bangabhaban.
The two leaders later met at the Credential Hall.
After the meeting, the Prime Minister of India signed the inspection book.
The President's Press Secretary gave detailed information in this regard.
He said the President expressed satisfaction over the increase in bilateral contacts between Bangladesh and India in the Corona situation.
The President thanked the Government of India for providing the vaccine as a gift.
He also hopes that the vaccines that are supposed to come on a commercial basis will come in time.
At the time, the Indian Prime Minister said India has always considered Bangladesh as a loyal friend as a neighboring country. India will always be by the side of Bangladesh in its development and progress.
President Abdul Hamid thanked Narendra Modi for attending the birth centenary of Father of the Nation Bangabandhu Sheikh Mujibur Rahman and the golden jubilee of Bangladesh's independence.
He said the visit would be a "landmark milestone" in the diplomatic relations between Bangladesh and India.
The President thanked the Government and people of India for awarding the Gandhi Peace Prize to Bangabandhu. He said the award was a tribute to Bangabandhu's lifelong struggle to establish world humanity and the democratic rights of the oppressed people.
Thanking India for its cooperation and support in the great war of liberation, Abdul Hamid said the present government prioritizes friendly relations with India and neighboring countries. India is our closest neighbor and a loyal friend to each other on the basis of mutual dignity, trust and confidence.
Foreign Minister AK Abdul Momen, Agriculture Minister Abdur Razzak, India's Security Adviser Ajit Doval and Foreign Secretary Harsh Vardhan Sringla were present at Bangabhaban.