Bangladesh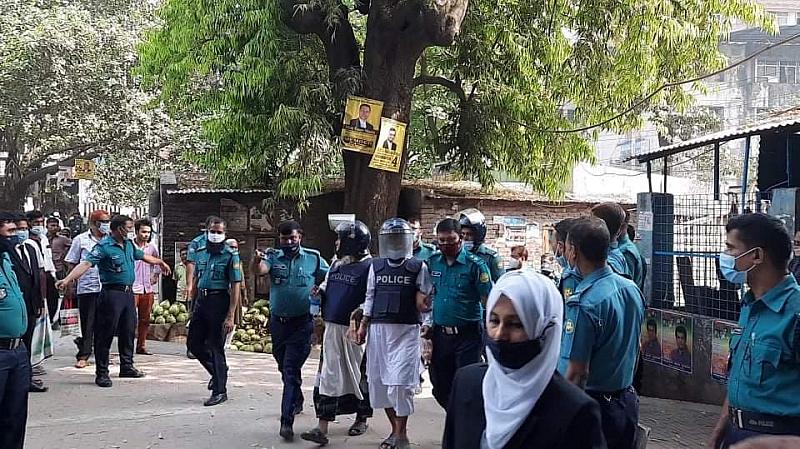 Collected
Firing squad ordered the execution of 14 accused
Dhaka, March 23: A tribunal has sentenced 14 people to death in a case of planting a bomb at a helicopter landing site in Gopalganj's Kotalipara with the intention of assassinating Prime Minister Sheikh Hasina. The judge ordered a firing squad to publicly execute each defendant.
Judge Abu Zafar Md Kamruzzaman of the Dhaka Speedy Trial Tribunal-1 pronounced the verdict on Tuesday (March 23rd).
In the verdict, the judge said, "The accused were sentenced to death for the crime under section 121/34/109 of the Penal Code." A firing squad publicly ordered the execution of each of the accused. If the authorities had any difficulty in executing the accused, they were ordered to be hanged according to the prevailing rules. No punishment was given against the accused as per Section 121A / 222/124 "A" of the Penal Code as extreme punishment was given under Section 121/34/109 of the Penal Code.
The convicted accused are: Md. Azizul Haque alias Shahnewaz, Md. Lokman, Md. Yusuf alias Moshab Moral, Moshab Hasan alias Rashu, Sheikh Md. Enamul Haque, Md. Mofizur Rahman alias Mofiz, Md. Mahmud Azhar alias Mamunur Rashid, Md. Rasheduzzaman alias Shimul, Md. Tarek, Md. Wadud Sheikh alias Gazi Khan, Md. Anisul Islam, Sarwar Hossain Mia, Maulana Amirul Islam alias Jennat Munshi and Maulana Rafiqul Islam Khan.
Observing the verdict, the judge said, "Prime Minister Sheikh Hasina and Awami League leaders and activists were killed and a bomb was planted on the platform of Kotalipara to overthrow the democratic and legitimate government."
'The anti-independence forces have been involved in conspiracies since the defeat of the liberation war. He even killed Bangabandhu in 1975 and destroyed the country. Following Sheikh Hasina's return to the country, there was a plan to assassinate her as well. He was repeatedly tried for murder. This is so that HuJI, JMB and Islamic militants cannot repeat such incidents. So they have to be given exemplary punishment. '
It is learned from the case that on July 21, 2000, a bomb weighing 6 kg was recovered from the side of the meeting place of the then Prime Minister Sheikh Hasina at the ground of Sheikh Lutfar Rahman Adarsh ​​College in Kotalipara, Gopalganj. Sheikh Hasina was scheduled to address the gathering the day after the incident. Kotalipara police sub-inspector Nur Hossain filed a case under the Explosives Act.