Bangladesh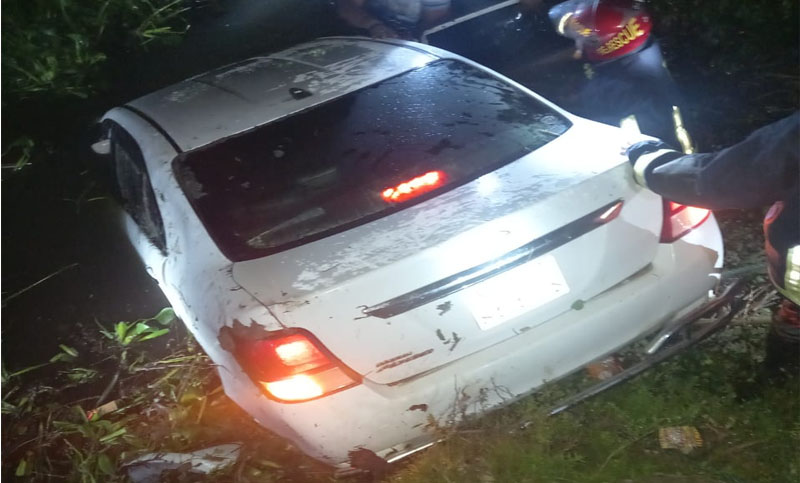 Photo: Collected
Five killed as car plunges into pond in Chandpur
Own Correspondent, Dhaka, February 23: A private car lost its control and plunged into a roadside pond in Chandpur's Shahrasti, leaving five people, including its driver, dead.
The accident took place at around 1 am on Tuesday (February 22) at Purba Narah village in Chitoshi East union of the upazila.
According to Shahrashti Model Police Station and Fire Service sources, a private car (Dhaka Metro-Ga 43-3721) lost control and fell into a pond at Mollar Tek in East Narah village on the way from Comilla to Manoharganj at around 1 am. Upon receiving the news, locals and a team of Shahrashti Fire Service went to the scene and recovered the bodies of five people.
The deceased have been identified as Md. Shahparan Tushar (22), son of Siddiqur Rahman Khokon, UP member of Ramdevpur village under Hasnabad union of Manoharganj upazila of Comilla, Shakil (23), son of late Rafiqul Islam of Narpaiya village in the same area, Rezaul Karim (23), son of Babul Miah of Champa Keshtala village, Nayan (24), son of Md. A. Khalek of Dhanyakhola village of Sharsha upazila, and Md. Sagar Hossain (24), son of Babul Hossain of Uttar Khailkur village of Gazipur Sadar upazila.
Md. Jahangir Alam of nearby Panchail village said, "We rushed to the spot after getting the news of the accident. The car fell into the water and no one inside could get out. After breaking the glasses of the car, we took them out of the vehicle, but no one was alive."
Shahrashti Model Police Station Inspector (Investigation) Md. Morshedul Alam Bhuiyan said the deceased were traveling from Comilla to Chatkhil in a private car. Relatives of the victims said they were returning from Comilla after attending a wedding ceremony.
Chandpur Fire Service Deputy Assistant Director (DAD) Md. Shahidul Islam said a unit of the fire service immediately rushed to the scene after receiving the news. The bodies of the deceased were recovered and handed over to the police.
Shahrashti Model Police Officer-in-Charge (OC) Md. Abdul Mannan said the bodies of the deceased have been kept at Ugharia Police Investigation Center. After completing the legal process, the bodies will be handed over to their relatives.