Bangladesh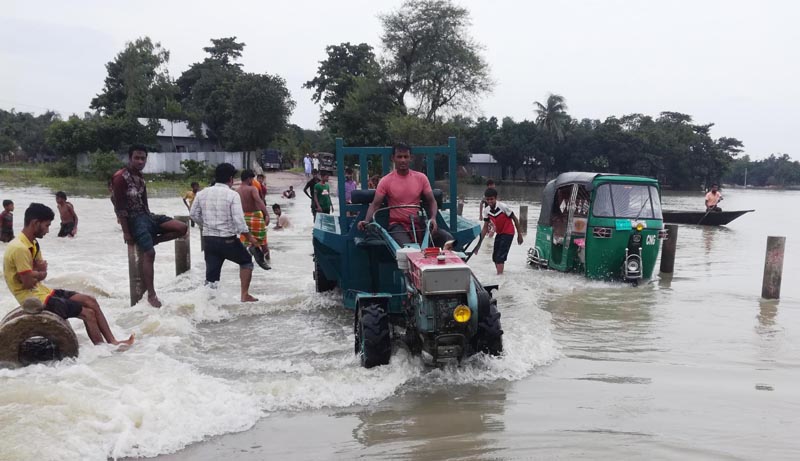 Collected
Flood in Jamalpur destroys boro paddy
Dhaka, May 25: Boro paddy of 10 villages in Melandha of Jamalpur has been submerged due to flash floods. Thousands of farmers are worried about this. They are trying to cut the drowned paddy and take it home. However, labor and transportation costs have increased.
According to Upazila Agriculture Department sources, boro paddy has been cultivated in 20,200 hectares of land including Roumari and Ilshamari beels besides Jhaugara, Ghosherpara, Kapashantia, East Kapashatia, Sheikhsadi, Tupkarchar, Fakirpara, Beltail, Bagbari and Talukpara of the upazila. Of these, 4,150 hectares of paddy has been planted in Jhaugara and Ghosherpara unions.
A few days ago, the farmer's hard-earned ripe and semi-ripe paddy was suddenly submerged in the flood waters. Meanwhile, the workers are not getting along even after offering Tk 1,000 to Tk 1,500. Boats are also not available, so most of the paddy is being wasted in the field.
Aminul Islam, a helpless farmer of Kapasahantia village in Jhaugara union of the upazila. He cultivates boro boro on seven bighas of land this year. The yield of paddy was also good. But suddenly the whole field was submerged in water.
He said, "I have hired a worker with a wage of Tk 1,400 and a boat for Tk 1,200 per hour. I have cut two bighas of paddy and put it on the road. The rest of the paddy is still submerged. Now I don't understand how to cut the rest of the paddy.