Bangladesh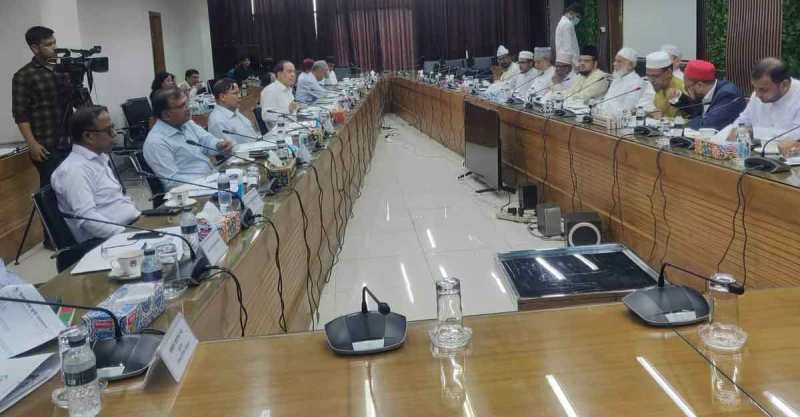 Photo: Collected
Foreign diplomats came for courtesy call: CEC to JSD
Own Correspondent, Dhaka, July 25: Foreign diplomats came to meet the Election Commission and did not give any advice. Following the previous sequence, they met EC. Chief Election Commissioner (CEC) Kazi Habibul Awal said this to Jatiya Samajtantrik Dal (JSD).
He said these things in response to JSD's statement that foreign diplomats have unduly raised their noses about the elections on Sunday (July 24). A delegation of 16 members led by Jasad president Hasanul Haque Inu participated in dialogue with the EC at Agargaon election building. Apart from CEC, four Election Commissioners, EC Secretary, Additional Secretary and other senior officers were present in the dialogue.
The JSD wrote to the commission that some foreign diplomats have been interfering with the work of the EC against diplomatic etiquette and unwarrantedly. The Election Commission should not condone such unwarranted snooping against diplomatic etiquette.
In view of JSD's statement, the CEC said, "Two groups of foreign diplomats had come for a courtesy meeting with the commission. But they did not give any advice. They met the EC following the continuity like the previous commission."
Kazi Habibul Awal said, "We invite everyone to come. Everyone wants that the election should be participatory. I have heard the ruling party said that we want to hold elections with them. We have clearly said, we cannot force anyone, it is not our responsibility. It is our responsibility to call everyone for a fair election."
Highlighting various legal issues including the constitution, laws, rules, he said, "We do not see any shortage of power. There is a huge lack of power - not filling it. Cooperate when legally enforced. Opposition without support will be difficult. We will use the powers assigned to us properly."
The CEC said that the rules must be strictly enforced during the elections. At that time the EC's approach may be stricter for peaceful and fair elections. Measures will be taken to ensure equal opportunities for all parties in the elections.