Bangladesh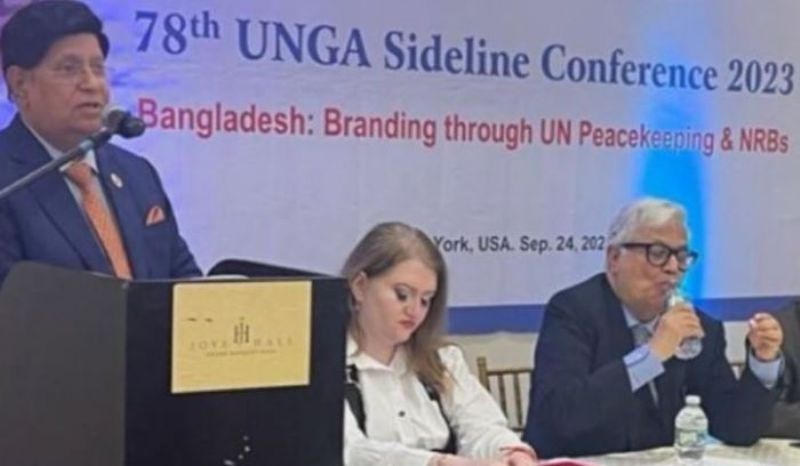 Collected
Foreign Minister calls upon expatriates to stop misinformation about Bangladesh
Own Correspondent, Dhaka, 25 September 2023: Foreign Minister Dr. AK Abdul Momen has called upon the diaspora to highlight the success and achievements of the country with correct information and statistics against misinformation about Bangladesh. He made this call as the chief guest at a discussion organized by the Center for Non-Resident Bangladeshis in New York on Sunday.
Appreciating the role of expatriate Bangladeshis in increasing the good relations of Bangladesh with the whole world, Dr. Momen said that expatriate Bangladeshis should be more involved with the development activities of Bangladesh. Emphasizing on strengthening the area of trade and common values between Bangladesh and the United States, Momen said that the expatriates here should work sincerely to deepen the existing good relations between Bangladesh and the United States.
The foreign minister said that through the great liberation war in 1971, the Bengali nation stood firm against oppression, injustice and discrimination and gained freedom in return for the sacrifice of three million people. Through the liberation war, the Bengali nation has set an example of courage, self-respect and self-sacrifice to the whole world.
Showing a comparative picture of the transformation of Bangladesh from famine and natural disasters after independence to today's Bangladesh, he said, the leaders of the western world called the newly independent Bangladesh as a bottomless basket. But present-day Bangladesh, led by Bangabandhu's daughter Prime Minister Sheikh Hasina, has become an emerging economy. Bangladesh has now become the 35th largest economy in the world. Bangladesh has achieved enviable progress in various socio-economic indicators including poverty reduction.
The foreign minister said, "Our GDP growth rate from 1975 to 1990 was only 3.2%, and now our average GDP growth rate is 6.8%."
Referring to Prime Minister Sheikh Hasina's leadership in establishing Bangladesh as a role model for development, Dr. Momen said, "During the BNP-Jamaat regime between 2001 and 2006, Bangladesh was turned into a land of extremism, jihadism and terrorism. The good news is that those days are over."
The foreign minister said, "After the brutal killing of Bangabandhu and his family members on August 15, 1975, military rule, the infamous Indemnity Act, blocked the way to justice for the murderers. Then the murderers were rewarded by being appointed to important posts in Bangladesh missions abroad without trial."