Bangladesh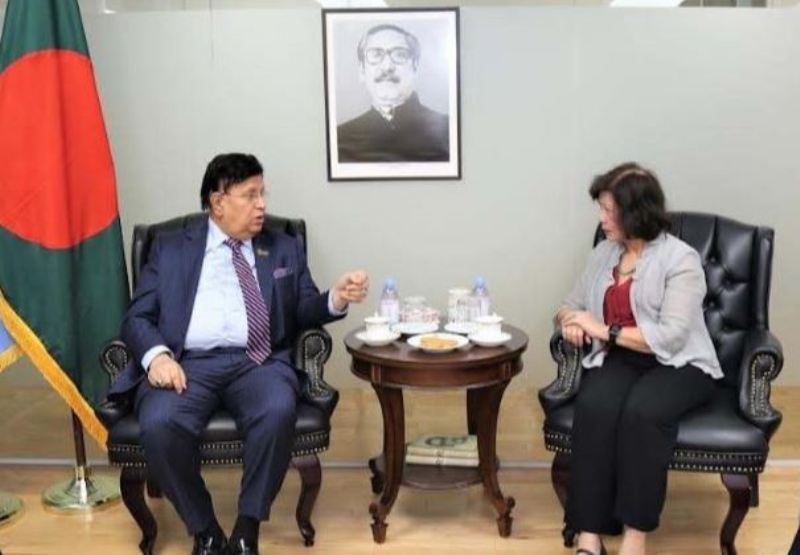 Collected
Foreign Minister Momen calls on UN envoy to play a stronger role in dealing with Rohingya crisis
Dhaka, March 22: Foreign Minister Dr. AK Abdul Momen MP requested the UN Secretary General's Special Envoy for Myanmar, Nolin Hejar, to increase her engagement with the Myanmar authorities as well as all other partners in improving the Rohingya situation in Rakhine. He especially emphasized on identifying the root causes of the Rohingya crisis and solving it quickly.
The foreign minister said this in a bilateral meeting held with the special envoy of the Permanent Mission of Bangladesh to the United Nations in New York on Tuesday. This was stated in a news release received in Dhaka on Wednesday.
Referring to the various resolutions adopted by the General Assembly and the Security Council regarding the Rohingya, the Foreign Minister urged the Special Envoy to continue multifaceted diplomatic efforts to speed up the process of repatriation of the Rohingyas to their homeland Myanmar and to engage more with all global and regional leaders, including the ASEAN leadership. In this context, he added, "If given the opportunity, the Rohingyas can become important members of Myanmar society and contribute to their socio-economic prosperity."
The Foreign Minister highlighted the various humanitarian initiatives and skill development programs undertaken by the Bangladesh government for the Rohingyas, including the introduction of education programs based on the Myanmar curriculum in the temporary camps located in Cox's Bazar and Bhasanchar. In this context, he called on the Special Envoy to work to mobilize sufficient funds from the international community to meet the Rohingya's most urgent needs such as food, education, shelter and health care.
During the bilateral meeting, the foreign minister emphasized on the unity and concerted efforts of the international community to ensure that the UN member countries continue to provide humanitarian assistance to the Rohingya refugees in Bangladesh under the principle of 'Responsibility and Burden Sharing'. He acknowledged with deep gratitude the important responsibility and role of the Special Envoy and assured him of Bangladesh's full support. In return, the Special Envoy promised the Foreign Minister to work closely with Bangladesh for a permanent solution to the Rohingya crisis.