Bangladesh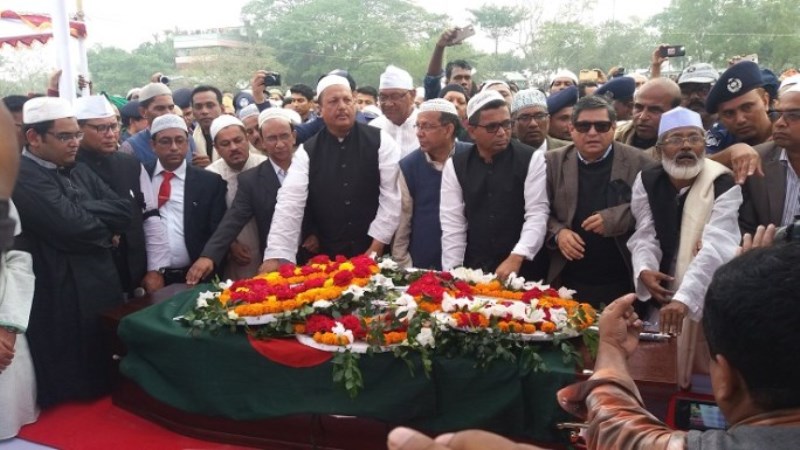 Collected
Former Law Minister Abdul Matin Khasru laid to rest
Dhaka, April 15: Prominent lawyer of the country, presidium member of Awami League and former law minister Abdul Matin Khasru MP has been buried next to his parents' grave in the family graveyard of his village home Mirpur. The burial of the veteran politician was completed on Tuesday (April 15) after the fifth and final janaza at the Mirpur Government Primary School ground in Comilla's Brahmanpara upazila.
Five-time MP Abdul Matin Khasru died of coronavirus at the Combined Military Hospital (CMH) in Dhaka on Wednesday (April 14th). The body of the MP was then taken for the first janaza on Thursday (April 14) at the Alia Madrasa ground in Bakshibazar, Dhaka.
The body was brought to Comilla after Janaza at 8:30 am at the premises of Bangladesh Supreme Court at 10:30 am. He was later buried at Burichang College ground in Comilla on the third day after Johar, fourth place at Brahmanpara High School ground at 4 pm and after the fifth janaza at Brahmanpara Mirpur Government Primary School ground after Asar village. Before each janaza, this heroic freedom fighter has been given a guard of honor.
According to the family sources of the veteran politician, he was admitted to the hospital on the morning of March 16 after receiving testing coronavirus positive. He was later taken admitted to the ICU. After his condition improved, the former lawmaker was moved to a cabin, but was moved back to the ICU after his health deteriorated. He was on life support on Tuesday.