Bangladesh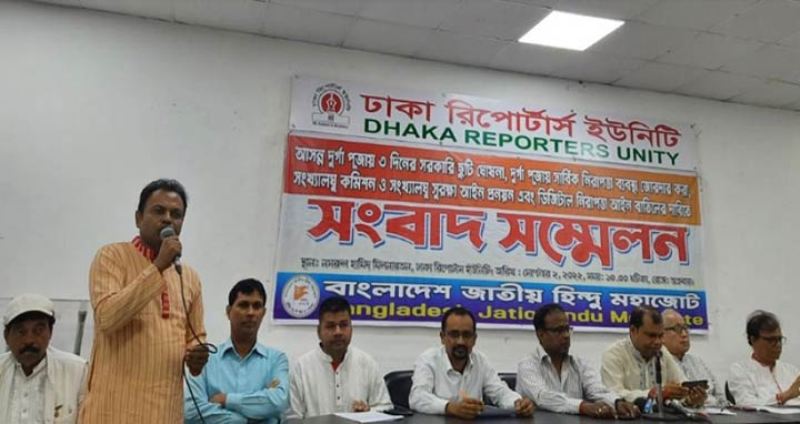 Collected
Four demands of the Hindu Mahajote including 3 days holiday during Puja
Dhaka, September 2: The Bangladesh National Hindu Mahajote has made a four-point demand, including a three-day official holiday on Durga Puja. These demands were presented in a press conference organized at Dhaka Reporters Unity Auditorium on Friday (September 2).
The demands are that 3 days (Ashtami, Navami and Dasami) should be observed as a public holiday for Durga Puja. To strengthen security in each temple from 10 days before the puja to the time of puja with the provision of CC cameras at government expense in every permanent and temporary puja temple. Constitution of Minority Protection Act and Minority Commission. And if the provisions of the Digital Security Act are not applied equally to all, then the immediate repeal of this Digital Security Act.
In a written speech on the occasion, Palash Kanti Dey, Executive Secretary General of the organization said, We have been conveying these demands to the government for a long time. But so far I have not received any response from the government level.
He further said that if the government does not give a clear statement regarding the fulfillment of demand No. 1, then on September 16, Hindu Mahajote will hold human bonding and protest program across the country in favor of the demand.
President of Bangladesh National Hindu Mahajote Dr. Prabhas Chandra Roy presided over the event and among others were present Chief Coordinator of Hindu Mahajot Shyamal Kumar Roy, Executive President Sudhanshu Chandra Biswas, Vice President DC Roy, heroic freedom fighter Ranjit Kumar Mridha, Prabhas Chandra Mandal, Jagannath Halder, Sunil Malakar, Advisor Dulal Dey, General Secretary Sameer Sarkar, Akhil Mandal and many others.