Bangladesh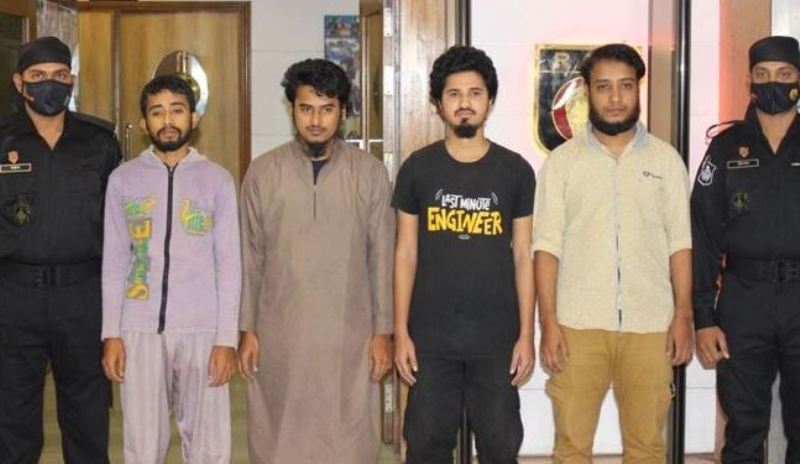 Collected
Four militants arrested while training for attack
Dhaka, November 4: The new militant organization Jamaatul Ansar fil Hindal Sharqiya called the so-called Hijrat, and the search for more than half a hundred homeless youths has not been found yet. In this situation, RAB is not dismissing the threat of destruction at any time.
RAB says that they may sabotage due to some vested interests or motivated by militancy. They are preparing for sabotage. Information of sending Tk 17 lakh for purchase of heavy weapons in two phases was found. RAB claims that it has also received information on the supply of AK-22 and AK-32 weapons. Besides, the terrorist organization has sent Tk 50 lakh to various places through banking channel and mobile banking.
RAB Legal and Media Wing Director Commander Khandaker Al Moin said these things in response to a question from journalists at a press conference organized at RAB Media Center in the capital on Friday (November 4). On Thursday (November 3) night, RAB announced the arrest of four people, including the finance coordinator and migration affairs coordinator of this new militant organization, in a raid in Laksam area of ​​Comilla. This press conference was organized to inform about that.
The arrested are Abdul Quader alias Sujan alias Faiz alias Sohail (24), Ismail Hossain alias Hanzala alias Mansoor (22), Muntashir Ahmed alias Bachchu (23) and Helal Ahmed Zakaria (33). Among them, RAB has named Bachchu as the chief financial coordinator of the organization, Sohail and Hanjala as coordinators of the migrated members and Zakaria as the 3rd highest person in the military wing.
At this time, RAB said that two extremist books, a training syllabus, nine leaflets, a diary and four bags were recovered from them.
When asked about the threat of sabotage by new militant organizations, this RAB official said that RAB forces are always prepared for the possibility of sabotage by militants. We assume, since many are unmotivated, that anything can happen at any time. But law enforcement is ready.
Commander Khandaker Al Moin said militancy is now largely under control due to continued operations by law enforcement forces, but it has not been eradicated. We are never complacent. They can sabotage at any time due to any vested interests or motivated by militancy. We are conducting the campaign with such preparations in mind. Many of our members are still conducting expeditions in the mountainous regions.