Bangladesh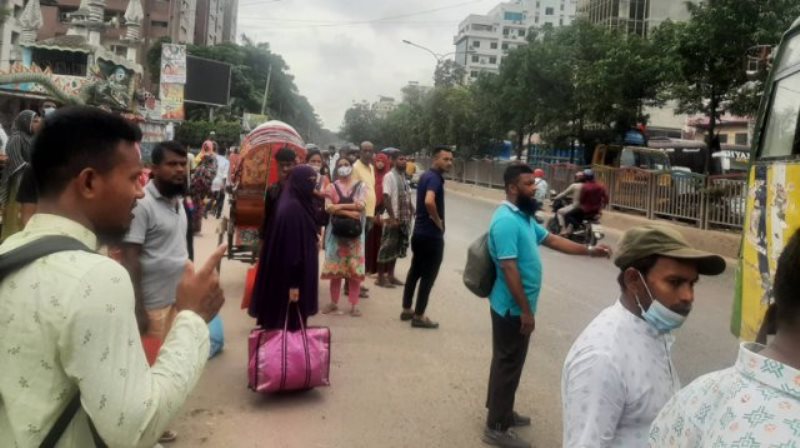 Photo: Collected
Fuel price rise: People suffer as public transport goes 'off roads' in Dhaka
Own Correspondent, Dhaka, August 6: The government increased the fuel prices on Friday night. After that, there has been a severe public transport crisis in the capital since Saturday morning.
On Saturday morning, hundreds of people were seen standing on the streets waiting for buses in different areas of the capital. Even if a bus arrives on some route after a long wait, many people rush to board it. Those buses are already full of passengers. As a result, in most cases, it is seen that no one can board the buses. Added to this, additional suffering in the morning due to rain has been seen in Rayerbagh, Shanir Akhra, Kajla, Jatrabari, Rampura Bridge areas of the capital since morning.
A passenger named Munna, who was standing on the road waiting for the bus, said that he had never seen such a crisis in the public transport on a Saturday. "I have been standing for one hour and cannot board any bus."
A person in charge of Hanif flyover security, who did not wish to be named, said that there is very little public transport on the road today due to the rise in diesel prices. Hundreds of people wait for hours without getting public transport.
A person named Suman working at Gazi International who was waiting for the bus said, I work in a private company. I have to go to the office even on Saturday. "I have been standing since morning. I did not get a bus." He expressed his anger and said that the government does not care about the suffering of the common people.
An unnamed police traffic sergeant in charge of Hanif flyover's Kajala junction said the public transport on the road was less today than on other days. "This may be due to the increase in diesel prices. I heard that no pump is giving oil since last night."
After 12 midnight, the new prices of fuel oils came into effect. The price of diesel and kerosene has been increased by Tk 34 to Tk 114 per liter, the price of petrol has been hiked by Tk 44 to Tk 130 and the price of octane has been increased by Tk 46 to Tk 135.