Bangladesh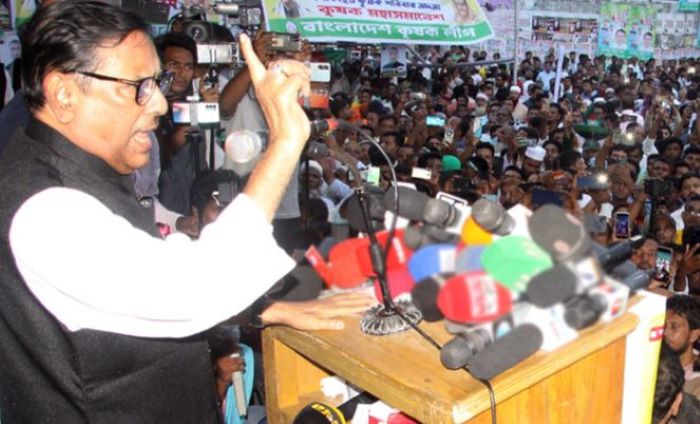 File Picture
Gathering without permission is in the news: BNP cadre warns
Awami League General Secretary and Road Transport and Bridges Minister Obaidul Quader has commented that BNP will not have an escape route if it holds a rally without permission.
He said, "the permission of the government should be taken, otherwise there will be news.'
Criticizing the 48-hour ultimatum given by the BNP to the government to send party chairperson Khaleda Zia abroad for treatment, he said, "BNP said it would send Awami League to the graveyard. Now it's time for BNP politics to go to graveyard. Everything including BNP's 48-hour ultimatum and one-phase movement is fake."
Obaidul Quader said these things at the general meeting of the Farmers' League organized at the south gate of National Mosque Baitul Mokarram on Saturday afternoon.
He said, "BNP's ultimatum is over. Where is the ultimatum of 48 hours? BNP is fake, 32 parties are fake."
Criticizing the speech of BNP Secretary General Mirza Fakhrul Islam, he said that if the government is called illegal, then why did Khaleda Zia request the release of the illegal government?
Obaidul Quader said in response to the statement of the BNP leaders that no matter how much they lie to the government, they cannot do anything without the permission of the government. The permission of the government must be taken, otherwise there is news. Then there will be no way to escape.
He said, "This country is not given by anyone's parents. Those who have blood stains on their hands, the blood of August 15, the blood of August 21, the blood of the farmers of Bengal, they are murderers, they are corrupt, they are world champions in corruption. Bangladesh is not safe in the hands of that BNP, democracy, vote, public safety, liberation war are not safe. They don't want Bangladesh of 71. They want murder and terror. They want corruption and dictatorship."
Awami League general secretary warned against BNP and said that those who come to vandalism will be crushed. He said, democracy is not safe in Bangladesh without Sheikh Hasina, rice-clothing system is not safe. Bangladesh is very peaceful because of Sheikh Hasina. An honest man like him is rare in politics.