Bangladesh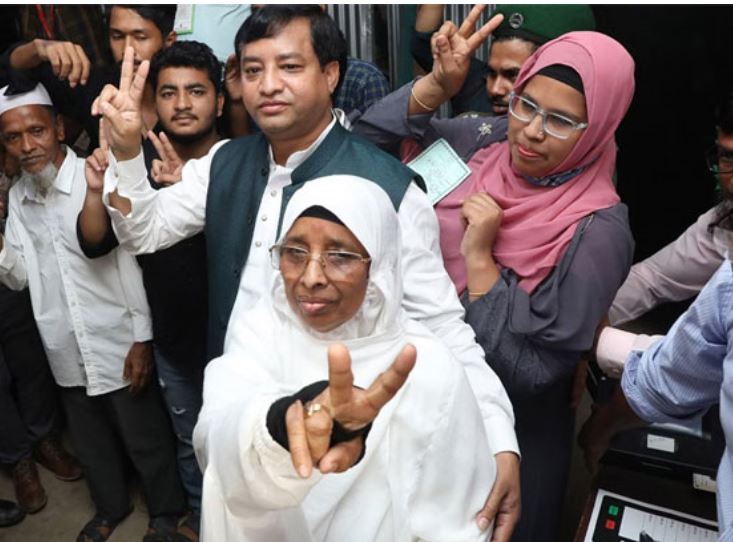 File Picture
Gazipur City: Khatun becomes new Mayor
Dhaka, 26 May 2023 : Zayeda Khatun, an independent candidate of the table clock symbol, has been elected as the new mayor of Gazipur City Corporation.
Through this, the people of Gazipur got the first woman mayor. He was declared the winner privately after the announcement of the results of 480 centers on Thursday around 1:30 pm. Regional officer of Dhaka region serving as returning officer. Faridul Islam announced this.
Immediately after the announcement of the result, the people of Gazipur took out a cheering and victory procession. Zayeda supporters were seen taking out victory processions outside the Returning Officer's office and in different areas. Zayda Khatun is the mother of former mayor Jahangir Alam. He defeated his nearest rival boat symbol candidate Azmat Ullah by 16 thousand 197 votes. And after becoming a city corporation, Zaydai became the third mayor of the metropolis.
Meanwhile, in the results obtained from 480 centers, Zayeda Khatun got 2 lakh 38 thousand 934 votes in the clock symbol. And Azmat Ulla Khan got 2 lakh 22 thousand 737 votes in boat symbol. No other candidate came close to the votes of these two.
Atiqul Islam of fish symbol got 16 thousand 974 votes in the mayoral election, MM Niaz Uddin of plow marker got 16 thousand 362 votes, Gazi Ataur Rahman of hatpakha got 45 thousand 352 votes, Md of rose flower symbol. Raju Ahmed got 7 thousand 206 votes, horse symbol. Sarkar Shahnoor Islam got 23 thousand 265 votes with Harun-or-Rashid 2 thousand 426 and elephant symbol.
Polling was held non-stop in 480 centers from 8 am to 4 pm on Thursday. The polls ended peacefully without any violence.
333 candidates participated in the election of Gazipur. Among them, there are 8 candidates for the post of mayor, 246 candidates for the post of general councilor and 79 candidates for the post of reserved ward councilor. Besides, one candidate was elected unopposed in general ward.
New Nagarmata Zayeda Khatun was born on February 10, 1962 in Kanaya area of Gazipur City Corporation. Her husband Mizanur Rahman died five years ago. She is the mother of two sons and one daughter.
Zayda Khatun was not seen in politics before filing nomination papers. He came into politics mainly based on the image of Jahangir Alam, the son of the former mayor.