Bangladesh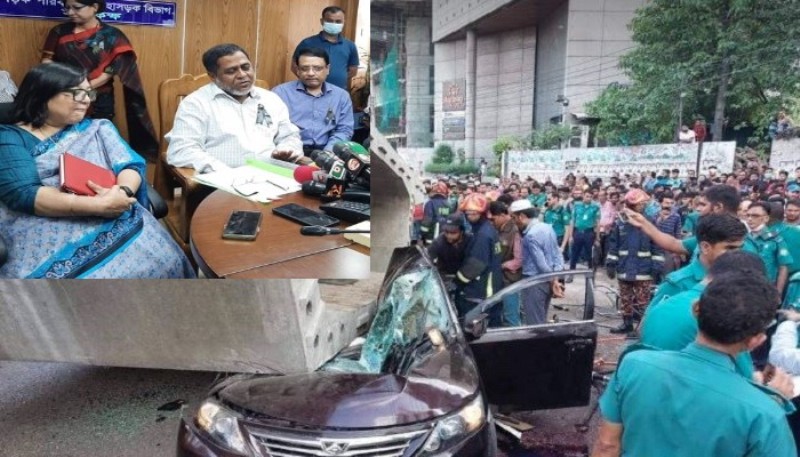 Collected
Girder accident: Maximum action will be taken against Chinese contractors
Dhaka, August 16: The negligence of the contractor has come up in the case of falling of the girder on the private car falling from the crane of the Bus Rapid Transit (BRT) project under construction in Uttara of the capital. Therefore, maximum action will be taken against that institution, said Secretary of Road Transport and Highways Department ABM Amin Ullah Noori. He said these things in the conference room of the Road Transport and Highways Department at the Secretariat on Tuesday (August 16) at noon.
Amin Ullah Noori said that the contractor should not work on holidays. "They were working without any safety measures. There is no opportunity to work in such an open manner. If they want to work according to the rules, they will give a work plan the day before, how many people they will have, how many cranes will be installed, inform the police. The contractor did the work without doing them. Under no circumstances should there be any opportunity to do such work without taking security measures."
When asked what action can be taken against the contractor, Roads Secretary Amin Ullah said, according to the agreement against the contractor, as per our agreement, we are fined, the work is terminated and they are blacklisted so that they cannot do any more work. Let the final report come. Letters will be issued today, maximum action will be taken against them. A fine cannot be imposed for such a great loss. If the maximum action is taken, his license will be lost. They will not be able to do any work in Bangladesh.
He said that whether the crane that was lifted is capable or not, it will be known when the investigation committee gives a full report. But it wasn't lifting, it was shifting. He removed one. There are regular cases.