Bangladesh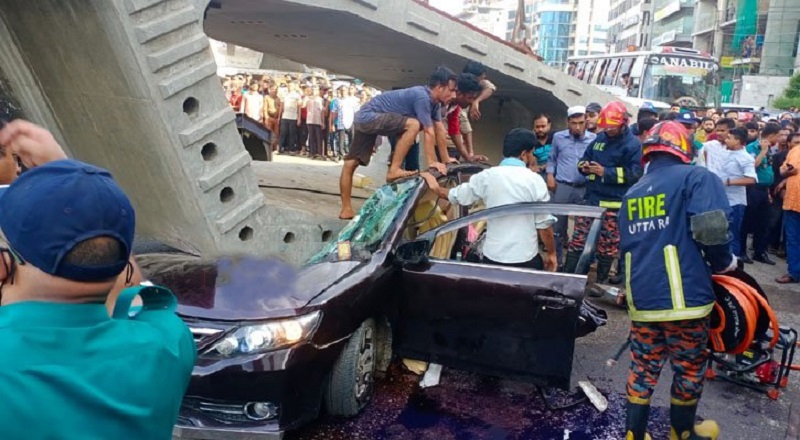 Collected
Girder accident: who will get 20 lakhs compensation?
Dhaka, January 21: In the case of the death of five members of the same family in a private car under the BRT project's girder in the capital's Uttara, the concerned organization has given compensation of Tk 20 lakh to the victims.
The contracting firm China Gazhuba Group Company Limited (CGGC) has deposited the compensation amount in Sonali Bank account of CMM court in Dhaka. Due to the complications caused by the wives of deceased Noor Islam, this money is not being handed over to other family members.
A will filed by the family in court lists four wives and three children together. On the other hand, in the will filed by another wife, the remaining members have been kept except for the two wives. According to this Warishnama there are five heirs. Due to this complication, no one has been given compensation from the court so far. The court has directed the police to investigate the matter and submit a report to the heirs.
On August 15, 2022, around 4:30 pm, five passengers of a private car were killed when a girder fell from the crane of the BRT project in front of Paradise Tower in Uttara. The newlyweds in the car were seriously injured but survived. The deceased are Ayub Ali Hossain Rubel (55), Fahima Akhtar (38), Jharna Akhtar (27), Jharna Akhtar's two children Jannatul (6) and Zakaria (4). On the night of this incident, Afran Mandal Babu, the brother of deceased Fahima Akhtar and Jharna Akhtar filed a case in Uttara Paschim Police Station.
Md Iftekhar Hossain, head of operation Md Azharul Islam Mithu, who is in charge of supplying heavy equipment after the case, Tofazzal Hossain, marketing manager of the crane supplier company Build Trade and administrative officer Ruhul Amin Mridha, safety engineer of the contracting company Md Zulfikar Ali Shah. Police arrested Md Manjurul Islam, crane driver Md Al-Amin Hossain alias Hriday, Rakib Hossain, Md Afroz and trafficman Md Rubel. After their arrest, they were remanded for different periods. Currently ten accused are on bail. The investigation of the case is almost at the final stage. The family of the victim is expecting maximum punishment for the accused.