Bangladesh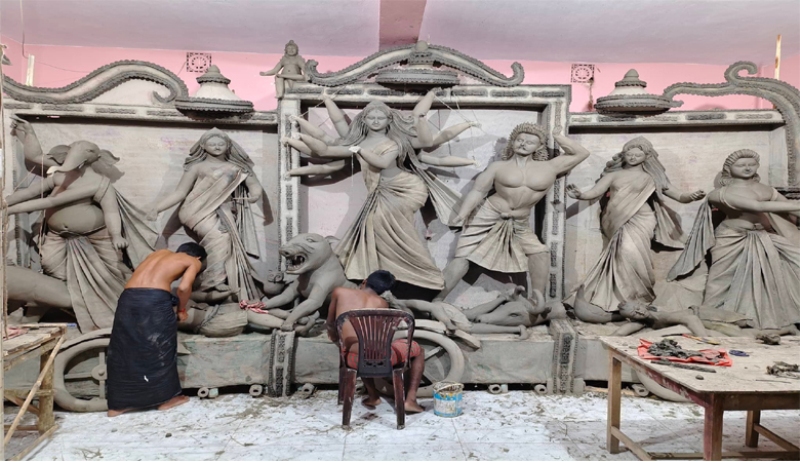 Collected
Goddess Durga to be worshipped in more than 32,000 marquees across Bangladesh
Dhaka, September 24: Due to the coronavirus pandemic, Durga Puja was limited to basic rituals for the last two years. But this time that limitation has been lifted. Goddess Durga and her children will be worshipped in 32 thousand 168 marquees across the country. The count exceeds by 50 than last year.
A lot of safety precautions are being taken in all the pavilions. Bangladesh Pooja Celebration Parishad has given this information.
JL Bhowmik, president of the Parishad, said this in an exchange meeting with journalists at Dhakeswari National Temple auditorium on Saturday (September 24).
He said, "Keeping in mind last year, this year the government wants no incident to happen under any circumstances. The law enforcement agencies are much more active this year than last year. We think it is very difficult to protect our 32,168 temples. So we are going to visit every temple this year. We are recruiting volunteers, who will keep watch even at night."
The Bangladesh Puja Celebration Council said that Anandamoyi's arrival message will be heard at the auspicious beginning of the Devi Paksha at the end of the Pitura Paksha through Mahalaya on September 25. This year's Autumn Durga Puja ceremony will begin with the invocation of the goddess on Mahasashthi on Saturday, October 1 and end with the idol worship on the Bijoya Doshomi on Wednesday, October 5. Due to the corona pandemic, the Hindu community was urged to avoid related matters in the celebration of Sharadiya Durgotsav and limit it to Swatvik Puja (basic rituals) for the last two years.
The General Secretary of the Parishad Professor Chandranath Poddar said in a written statement that last year the number of Durga Pujas across the country was 32,118. This time this number stands at 32,168, which is 50 more than last year. The number of pujas in Dhaka metropolis is 241, which is six more than last year.
He said that the number of marquees is continuously increasing every year after the present government came to power. The economic growth of the country and donations from well-wishers undoubtedly played a role in increasing the number of pujas. However, along with this, the issue of worship center security should be taken into consideration.
In the discussion meeting, the stakeholders were urged to pay attention to three issues. They are - no political programs during Durga Puja; Not holding examinations in various departments in schools, colleges, public and private universities during Durga Puja and other major religious events; Not holding recruitment tests in government and private institutions during Durga Puja and other major religious events.