Bangladesh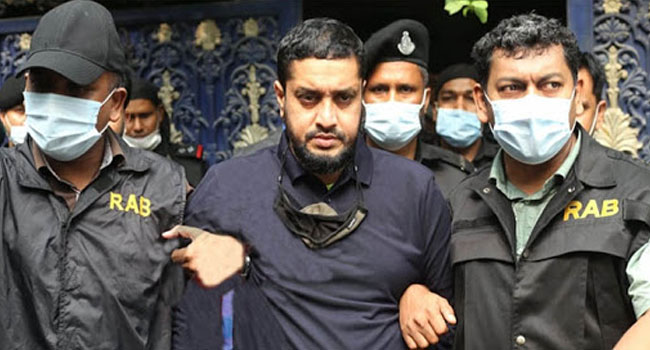 Amirul Momenin
Golden Monir wanted to escape to Dubai
Dhaka, November 22, 2020: Arrested Monir Hossain alias Golden Monir, who became the owner of thousands of crores of rupees by making illegal money, was supposed to leave the country for Dubai on the night of his arrest. That is why the flight and ticket were confirmed.
According to responsible sources, Golden Monir wanted to flee to Dubai on Saturday. For this all his preparations were completed. Monir was scheduled to fly to Dubai on an Emirates Airlines (EK-565) flight at night.
Monir's son Mohammad Rafi Hossain said his father often went to Dubai for treatment. He was going for treatment again, so his flight and ticket were confirmed. However, when asked about Monir's physical problems or treatment, he could not show any specific information or documents.
"My father is innocent," Rafi said. He was not associated with any political party. All the allegations against the father are baseless.
The raid was carried out at Golden Monir's house on the basis of specific allegations after a long search with the help of an intelligence agency. Monir is basically a hundi trader and a gold smuggler. From this Moni came to be known as 'Golden Monir'. The ACC and RAJUK have a case against him.
During the arrest on Saturday morning, 600 bags of gold, foreign pistols, liquor, a large amount of foreign currency and Tk 19 million in cash were seized from Monir's house. Also seized from his house were two unlicensed luxury cars, each with a market value of around Rs 3 crore.
According to RAB, Golden Monir owns more than two hundred plots and flats in Dhaka and surrounding areas. He seized numerous plots through forgery with the connivance of some officials of RAJUK. Initially, Monir admitted about 30 plots and flats.
It is learned that Golden Monir used to keep two licensed firearms in his safety. Among them a pistol and a shotgun. However, he was in possession of two illegal weapons as well as an illegal pistol. Which he was rescued from his home at the time of his arrest. He also handed over two licensed weapons to the Badda police station for going abroad.