Bangladesh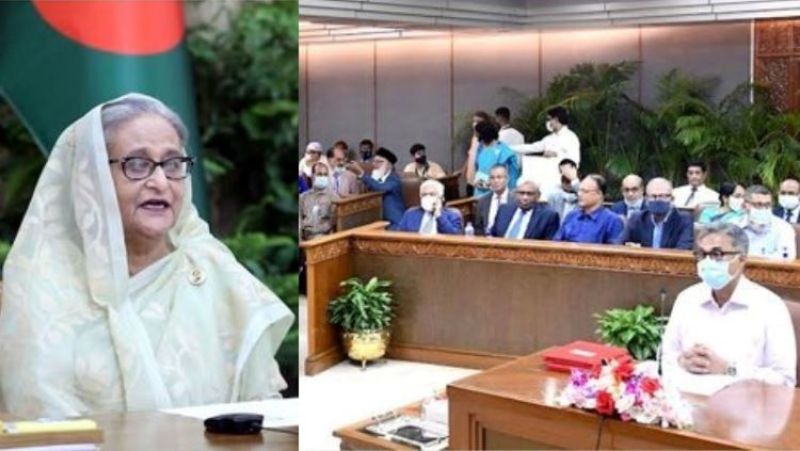 Photo: Collected
Govt is developing communication system across the country: PM
Own Correspondent, Dhaka, June 28: Prime Minister Sheikh Hasina said the government is developing communication system across the country as improved communication system helps in accelerating industrialization as well as increasing trade and commerce.
"We are dredging the rivers as well as reviving rail connectivity and laying new railways and constructing new bridges," she said.
The Prime Minister made the remarks while participating in a virtual ceremony of financial assistance to the Prime Minister's Relief and Welfare Fund by various financial institutions to help the victims of the recent floods. She virtually joined the function held at the Shapla Hall of the Prime Minister's Office from Ganobhaban.
Various banks and financial institutions have handed over grant cheques to the Prime Minister's Relief and Welfare Fund. On behalf of the Prime Minister, her Chief Secretary Dr. Ahmed Kaikaus received the grant.
Mentioning that her government has built a network of communication all over Bangladesh by building bridges and improved road systems, Sheikh Hasina said, "Apart from these, we have also activated waterways by dredging rivers. Our previous BNP-Jamaat alliance government often shut down the railways. We are re-launching it as well as making new railway lines. As a result, the communication system of the country is also increasing."
"Through the development and industrialization of the communication system, we are creating huge opportunities to make trade more dynamic," she said.
Referring to the success of the construction of the dream Padma Bridge with his own funds, she said, "When the World Bank stopped financing the Padma Bridge at the instigation of one of our own people, as well as other development partners withdrew, I announced I would build the Padma Bridge with my own funds. Then the people of the country as well as many of you came to my side and announced all kinds of cooperation. I thank you for that."
Referring to the people of the country as her 'greatest strength', Sheikh Hasina said, "With their courage and cooperation and their support, we have been able to build this Padma Bridge with our own money. The vast area of ​​our south that has long been neglected now has opportunities for industrialization. The people of this region will improve financially. There will also be a field to market your products. People's purchasing power will increase and the fortunes of the people in 21 districts of the region will change."